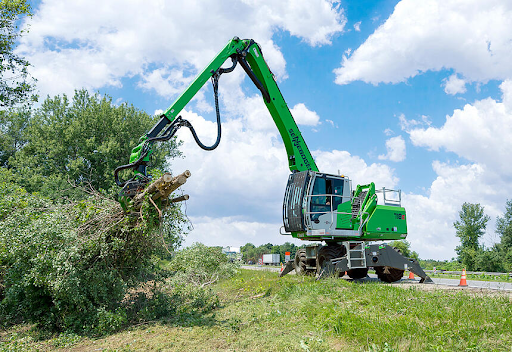 The first hydraulic excavator was originally developed for the construction of the hull docks in 1882. Over the last century it has become the Swiss army knife of construction, demolition, mining and forestry jobs, just to name a few. While not initially intended for tree removal, innovative tree care experts have adapted the excavator for use in forestry and tree service operations.
We'll take a look at how excavators have been fitted with thumb attachments, tree shears, circular saws, and mulcher/mowers to adapt them for cutting trees, shredding limbs or mowing dense undergrowth, and we'll compare that to the efficiency of a SENNEBOGEN 718 tree handler.
Why invest in the SENNEBOGEN 718 tree handler to perform these same duties as an excavator with attachments?
The answer is simple. An excavator was not purpose built for the tree industry; it was later adapted for it.


The Differences Between a 718 & an Excavator with Attachments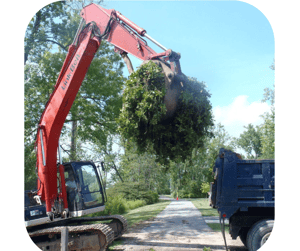 Excavator
An excavator was originally designed and built for digging operations. The strength of an excavator is working over the front of the machine in line with the tracks pulling towards its frame.
Some of the most common challenges when using excavators for tree cutting tasks.
Limited reach and lift capacity the further away from the machine you get
Lacks 360-degree operating ability
No standard dedicated hydraulic supply to end of stick attachment


SENNEBOGEN 718
A 718 is built upon SENNEBOGEN's platform of material handlers with design characteristics that focus on lifting up and out, far away from the center of the equipment, with controlled precision for cutting and stacking trees in any direction.
A final unique feature of the 718 is the dedicated hydraulic pump supplying power to the attachment of choice at the end of the stick. This allows the 718 operator to drive the machine and adjust the boom/stick while having full functionality of the attachment.
RELATED: Off-Road Tree Care Work: Ground Protection and Machine Stability
Additional Benefits of the 718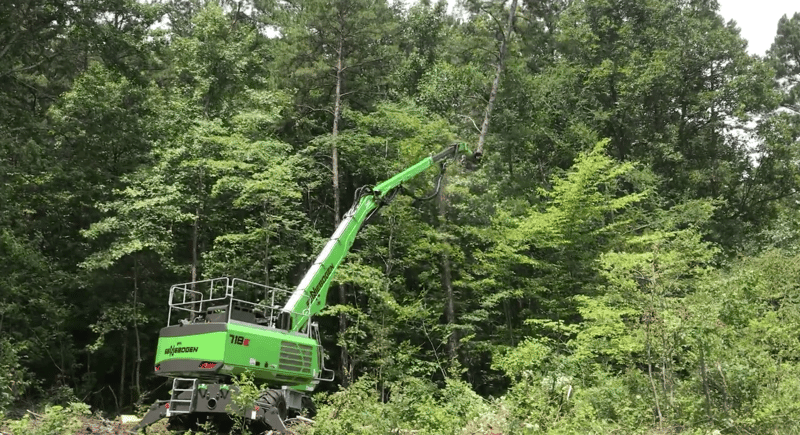 Precision Handling and Reach
The 718's telescopic boom will reach further than an excavator's attachment - up to 45 feet and has a lifting capacity of 12,000 pounds. Combined with its grapple saw attachment, the operator enjoys precision-controlled movement similar to a human hand, with a 280 degree rotation and a tilting angle of 180 degrees. This amount of control allows the operator to dismantle trees over structures, near power lines and along roadsides with increased safety.
Self-Cleaning and Self-Cooling
Both machine maintenance and all-day operations are kept at the forefront with the 718 designed to have the operator in mind. Its three-micron continuous filtration system keeps internal components clean and efficient. This makes for much cooler operating systems and extends the life of the engine components.
Its advanced thermostat-controlled cooling system works to prevent overheated conditions with three cooling units that will pull debris off the radiator fins for increased air circulation and cooler operating.
Reduced Operator Fatigue
The 718 is built to provide operator comfort, with suspension seats for reduced vibration, absorbing shock, along with a climate control system featuring heated seats for an ideal workspace in any season.
No matter what the terrain, weather conditions, or time of day, the 718 operator enjoys a totally enclosed, comfortable cab that allows full visibility along with two standard cameras and space for two more. Equipped with a cab that elevates up to 18 feet and can tilt back at a 30 degree angle, the operator will experience less back pain or fatigue which can occur from looking up from the seat of an excavator.
Simplified Hydraulics and Troubleshooting
SENNEBOGEN engineers have thought of potential problems and have implemented a hydraulics system that makes troubleshooting fast and simple. All circuits and ports are clearly identified and easy to access - in one central location.
To reduce breakdowns in the field, the 718 continuously lubricates every bushing and pin, as soon as the engine starts. This one feature alone will reduce maintenance time and will make sure your investment lasts for many years before needing parts replacements.


Seeing is Believing, So Come See for Yourself!
Watch the 718 in action to see how this one tree handling machine takes on multiple attachments and can eliminate the need for an excavator in tree cutting applications, from storm clean-up to right-of-way maintenance to land clearing operations.
Reserve your excavator for moving earth and leave the tree care work to the SENNEBOGEN.
Take an in-depth look at the SENNEBOGEN line of tree care handlers as we compare and contrast common equipment modifications to inform you on the best options for your tree service business:
UP NEXT:
Beyond Bucket Trucks and Booms: Come Experience SENNEBOGEN
SENNEBOGEN Offers FREE Operator Familiarization Training