When you have to stop everything for a small repair, you're losing money. It's that simple.
Every minute your SENNEBOGEN tree care equipment is out of service affects your business. Waiting on a technician to come fix the issue only adds time to the clock. Plus, having to pay that worker to do the job subtracts money from your wallet.
That's why it's important to make service, maintenance, and repairs easy—and fast. Why not turn your downtime into uptime by proactively organizing all the required parts and tools for specific tasks?
SENNEBOGEN'S UPtime kits allow you to streamline the repair process. In this article, we'll introduce you to a variety of kits as well as their components, value, and potential impact on your business.
What Are the Different Types of UPtime Kits?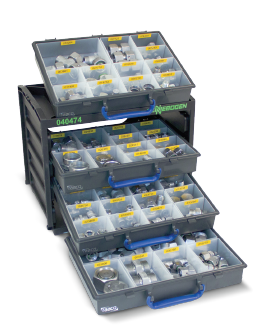 SENNEBOGEN's UPtime kits are designed to get your equipment up and running as quickly as possible. Each toolbox is organized for small repairs that can be done in the field, so you can reduce downtime and make money.
Auto Lubrication Kits
Each accessory kit for the Central Lubrication System includes more than 80 components. This repair kit is designed to get you back on the job quickly with the basic tools necessary to work on your SENNEBOGEN machine, as well as the common parts needed for system repairs. Our Central Lubrication System kits are available in three different configurations (based on the model).
For 825 D/E, 830 D/E, 835 D/E, 840 D/E—Order Part #113541
For 718 E, 730 E, 735 E, 818 E, 821 D/E, 850 D/E, 855 D/E, 860 D/E, 870 C/E, 875 E—Order Part #076274
Electrical Kits
These packages of electrical spare parts include up to 80 different electrical components used on SENNEBOGEN material-handling machines. The contents include all the necessary electrical components—and even a multimeter.
For D Series—Order Part #115489
For E Series—Order Part #169166
Plug & Connector Kits
This package of spare parts contains more than 60 pieces from 32 different plugs and connectors used in SENNEBOGEN equipment. Contents include contact pins and sockets, as well as extracting tools, that make up the core kit required when repairing plugs and plug connectors.
For D & E Series—Order Part #168667
SAE Flange Kits
The SAE Flange Kit includes extension and locking devices suitable for all hydraulic hoses and tubes used on SENNEBOGEN machines. This repair kit enables you to extend or cap tubes and hoses anytime and anywhere.
For D & E Series—Order Part #056274
A/C Service Kits
This handy service set includes small parts and seals frequently required for service work on air conditioning systems.
Here are the components of the kit:
1 relay for magnetic coupling
1 temperature sensor
1 pressure switch
1 draining hose
4 #10 O-Rings
For D Series—Order Part #189726
O-Ring Kits
The O-Ring Kits are now available in three separate configurations.
The Basic kit has 99 O-Rings from 0-70 mm and includes 4 A/C O-Rings. The O-Ring Extension kit has 66 O-Rings from 0-70 mm and 11 pipe mounting rings. The Master kit combines the sets and comes in two boxes with 165 O-Rings, 11 pipe mounting rings, and 4 A/C rings.
These sets include O-Rings in all sizes for repair work on SENNEBOGEN equipment. They provide you with the basic kit to ensure you have the suitable O-Ring available anytime and anywhere.
For O-Ring Master Kit—Order Part #217476 (includes #217477 & #217478)
For O-Ring Basic Kit—Order Part #217477
For O-Ring Extension Kit—Order Part #217478
Fitting Kits
The Fitting Kit includes more than 135 fittings in over 42 different versions. This basic kit with all the common fittings used on SENNEBOGEN machines enables you to carry out repairs easily in the shop or the field without having to purchase an extensive range of small parts.
For D & E Series—Order Part #040474
How SENNEBOGEN UPtime Kits Save Time and Money
With our UPtime repair kits you can quickly flip your equipment's downtime back to uptime.
Our custom and pre-built kits make service and maintenance jobs faster and more efficient so your productivity doesn't suffer—and your business receives minimal impact. These toolboxes are part of our commitment to ensure our customers have rapid and convenient access to the parts they need.
Investing in UPtime kits is the smart way to manage hundreds of related service parts and keep your SENNEBOGEN machine in motion. We maintain stock of every component that goes into each model currently in service.

Click here to learn more about these convenient packages!
2023 Tree Care Workers' Complete Guide to Machines & Equipment for Tree Removal, Urban Forestry, Storm Cleanup & More
Take an in-depth look at the SENNEBOGEN line of tree care handlers as we compare and contrast common equipment modifications to inform you on the best options for your tree service business.