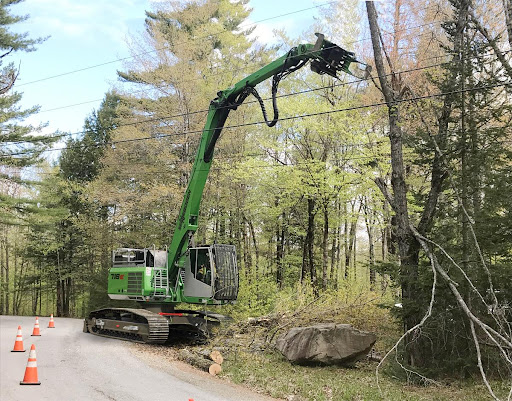 One of the biggest encounters in tree care work is dealing with terrain challenges: rough, muddy, uneven, or sloped ground situations make setup, stabilization, and exiting the jobsite quite a test. Our forebearers – those that paved the way for tree care and made it what it is today – were creative and innovative and thought up solutions to these problems as their work required them to do so. As they say: necessity is the mother of invention.
Let's take a look at some common terrain solutions used in tree care today, plus consider what would be best for your situation based on job site location, application, and mobility versus stability.
Urban Forestry and Off-Road Tree Care Work Challenges
The tree care industry is relatively new and is rapidly expanding as residents, organizations and governments realize they have a need for expert tree services. Urban forestry work is in high demand, and often the best machinery for that scope of work includes mobile equipment that can easily be driven or transported to the job location.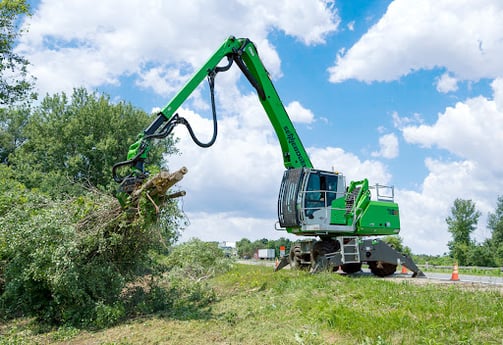 While mobile solutions work for many urban forestry jobs, there's always that occasional site where it won't quite work. Maybe that's a roadside operation on an extremely steep embankment that is just out of reach of your boom. Or it might be residential work in an extremely muddy, soft-soil environment.
In addition to the strong need for skilled arborists in urban forestry, there remains an ever-present need for utility line clearing, woodlot land clearing, and traditional timber and forestry jobs.
Both urban forestry and rural, off-road forestry work like two sides of a coin, with each situation requiring special equipment to access the job sites and safely remove tree parts and possibly large swaths of trees, shrubbery, and brush.
Urban Forestry: Jobsite Mobility
Since much of the work is roadside, such as right of way maintenance, bridge clearing, and residential jobs, the SENNEBOGEN 718 with rubber tires is ideal here, or even your boom truck or bucket truck. The convenience of quickly driving site-to-site for shorter jobs makes your business much more productive.
The challenge for ground protection and machine stability needs to still account for mobility being the number one priority. So what solutions are currently in use?
Ground Protection Mats for Tree Care: Protection and Stability
If your outfit takes on a lot of urban forestry work like this, you'll likely turn to ground protection mats, like AlturnaMats, if you need to keep the soil intact. Best used in situations like equipment roadways and access points, rut prevention and work platforms, these are what most experienced tree service workers rely on.
It can be tempting to go with a cheaper alternative like stall mats or plywood, but many experts have tried these options and know that more often than not they don't give them the results they're looking for.
Alturnamats can offer some stability as well, providing a firm steady base to level out your machine before setting the outriggers and getting to work.
Timber and Forestry Jobs: Off-Road Stabilization
While ground protection mats are ideal in many urban forestry situations, there are some jobs where even the mats can't hold up, and that's when things get tricky. Some applications may allow you to create your own brush mat to act as your ground protection, but traversing that brush mat with rubber tires would be quite a challenge.
When it comes to off-road jobs like utility line clearing and large-scale land and vegetation clearing, especially with additional terrain challenges, the rubber tire mat setup sometimes fails. This can happen if the ground is very uneven, sloped at an extreme angle, or in extreme soft soil situations. In cases like this, if you set out your mats and roll your machine on, the mats can squirt out and just not offer you that support and stability you need.
For situations like this, a machine set on crawler tracks is probably your best bet.
RELATED: SENNEBOGEN Head Off-Road with New 718 R-HD Crawler Model
The Best Stability and Ground Protection: SENNEBOGEN R-HD Series with Crawler Tracks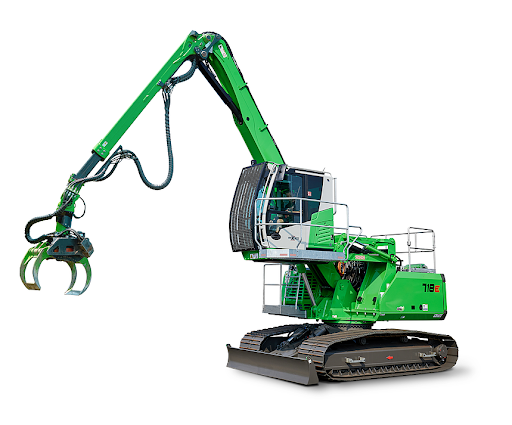 SENNEBOGEN 718 R-HD Model (Crawler Tracks) for Off-Road and Challenging Terrain
Not all operations will need a track machine, but more than likely, you'll know if you do when you encounter enough situations like the ones mentioned above.
SENNEBOGEN offers two off-road two tree care machines in the crawler track model: the 718 R-HD and the 728 R-HD.
Each respective model has the same great features you know to expect with the 718 and 728, respectively, including reach and lift capacity, safety and visibility, and efficiency.
718 R-HD: 47" reach with a lift capacity of 3,700 lbs.
728 R-HD: 65" reach with a lift capacity of 3,700 lbs.
Choosing the Best Tree Care Machine for Your Tree Service Business
If you're considering a SENNEBOGEN as part of your tree care equipment fleet, we often recommend the 718 M E as the entry level model. That will take care of 90% of your operational needs.
"The SENNEBOGEN 718 M E will take care of 90% of your tree service business' needs."
-Greg Roberts, SENNEBOGEN N.A.
But for those that are looking to expand past the base model, you may consider adding the 718 R-HD with crawler tracks or going for the 728 R-HD with crawler tracks. Both are stable and more mobile than the larger 738; however, the 728 R-HD will be better suited for mostly off-road work, while the 718 R-HD will work great if your work in urban forestry and need something that offers more stability in steep embankments and soft-soil operations without compromising mobility.
The 718 R-HD is great for urban forestry jobs near steep embankments and soft soil sites.
The 728-R-HD is best for off-road maintenance and rural utility line clearing and land clearing.
If you're still unsure, reach out to us with any questions and we'd be happy to help you out.
Take an in-depth look at the SENNEBOGEN line of tree care handlers as we compare and contrast common equipment modifications to inform you on the best options for your tree service business.
---