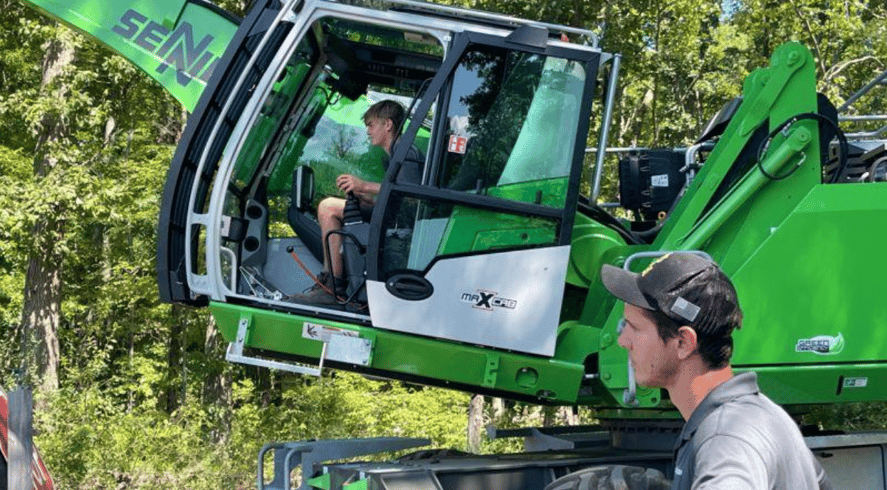 "It's not rocket science," says Cameron Kuklick, tree care specialist and head of SENNEBOGEN's Operator Familiarization program, "and while there are no prerequisites, having arborist training or a tree care background is often crucial for being a skilled 718 operator."
Cameron spends most of his time visiting customers on location, including delivery of SENNEBOGEN tree care handlers. Once on-site, Cameron is happy to provide a 3-day operator familiarization to crew members—that includes machine operators, arborists, and service technicians.
"Cameron was awesome when he came out and helped my crew last year!" - Ryan Nappen, Mountain F Enterprises, Inc.
"This is an excellent service provided by SENNEBOGEN with an expert operator." - Chris Watson, Sun Machinery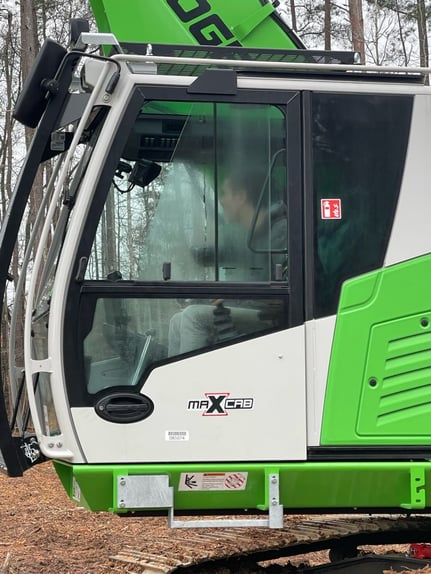 While there is no industry standard arborist training certification available, SENNEBOGEN offers their Operator Familiarization program to qualify all customers who purchase a SENNEBOGEN tree care machine.
Our customers love this service and are more than happy to capitalize on the opportunity to optimize the use of their new SENNEBOGEN.
We make sure customers are completely comfortable with machine controls and operations before departing, and if at any time they feel they need additional training, we're happy to accommodate them.
Q: Are any Special Skills Needed Before Operating a SENNEBOGEN?
While there's a skillset requirement and a certain amount of finesse that goes into the art of tree cutting and tree removal, Cameron says the skill of operating a SENNEBOGEN is accessible to anyone with a background in tree care.
Arborists, or "Tree Care Guys"
An arborist background is almost a necessity in understanding the art of tree cutting – things like pre-tension and wood compression. Heavy machinery operating experience isn't necessary, and sometimes creates a steeper learning curve when transitioning to the control scheme of the SENNEBOGEN.
"Unless the customer's operator has serious experience with another piece of equipment with a grapple saw attachment, such as a knuckle boom crane, he or she is going to have a relatively steep learning curve in terms of getting comfortable with our machine.
I have been around the 718 enough now to recognize the few key things that new operators struggle with, particularly in regard to the frustration of getting the bar pinched."
Cameron Kuklick, SENNEBOGEN Tree Care Specialist
Cameron Kuklick, Tree Care Specialist at SENNEBOGEN, walks us through some of the features and benefits of the SENNEBOGEN 718E at the TCI Expo 2021.
Q: When is the best time to schedule my team's Operator Familiarization?
Cameron often performs his 3-day qualification program upon delivery of a customer's new SENNEBOGEN tree care handler, but he also visits the site up to 2 weeks after delivery.
"Seat time is most important," he says. "So when I come to a job site, it's nice if the operator has had a chance to walk around the machine and get comfortable with the controls. By that time, I can come in and answer more advanced questions specific to tree handling and tree cutting."
Basic familiarization with the placement and use of controls comes first. The machine has its own unique feel that an operator has to get used to - almost like driving a new car for the first time. Once those initial kinks are worked out, they can try their hand at specific tree-cutting techniques. That's where Cameron can jump in to guide an operator through specific situations that hone their skills on the SENNEBOGEN.
Q: What does the Operator Familiarization course consist of?
The program is a 3-day course that helps an arborist or operator become familiar with machine controls, maintenance, and tree cutting techniques specific to a SENNEBOGEN. By the time Cameron concludes his operator familiarization, your team member will be extremely comfortable with and be qualified to operate the machine.
"I find that 3 days is ideal," Cameron adds. "It allows plenty of time to build rapport, coach operators, and give everyone enough operating time to feel comfortable with their new machine."
Day 1: Machine Familiarization and Orientation
Three to four dedicated operators and any service technicians are encouraged to attend the machine orientation. During this phase, students will receive a machine walkaround to familiarize themselves with parts locations and basic maintenance and service checks, such as fluid fill levels.
Phase two of day one includes an in-depth look at the cab controls, where they are located, what tasks they perform, and simply allowing operators a chance to play around and become familiar with the SENNEBOGEN control scheme.
Day 2: Techniques for Tree Cutting
Once orientation is complete, it's time to play! Day two is dedicated to seat time and tree cutting procedures, allowing operators to get a feel for tension, load, and responsiveness of the controls.
YouTube Treeworks, Inc. Right of Way Cleaning with a SENNEBOGEN 718
Day 3: Seat Time and Observation
Day three is dedicated to even more time in the seat. Cameron likes to sit back and observe the operators in action, allowing them to work out the kinks. If any specific questions come up in regard to advanced techniques, he'll jump in to help them out.
"This is where the finesse of tree cutting becomes an essential skill," he says. "If they understand things like wood compression and pre-tension, it helps with reach, load, grasping trees and performing cutting and takedown procedures."
Q
ualification and Follow-up Training
SENNEBOGEN's top priorities to their customers are experience and service. A tree care handler is an investment, and SENNEBOGEN wants to make sure our customers have everything they need to maximize the productivity of their new machine.
If at any time a customer needs Cameron to return to train up a new operator or do a refresher orientation course, we're happy to send him back out to visit and familiarize the new crew.
"We like to make sure there's a company representative available for any questions or concerns.
For many of our residential customers, the 718 is going to be the most expensive purchase they make in their career…
We want to be a supportive partner, even if it's just to coach the operator through how to change the bar or going through the buttons and controls… never hesitate to contact us," Cameron adds.
It's About the SENNEBOGEN Experience and Customer Service
"I'm happy if I can leave an operator who can confidently work through the steps of a proper cut and can see the value of having the 718 on-site." Cameron adds, "It is not so much a matter of immediate expertise or taking down the biggest tree, but of understanding how exactly a machine like ours can improve the workplace."
One of the most fulfilling aspects of Cameron's work is hearing how he's helped people in a significant way.
"It's been a most interesting week to say the least. On our way to a different venture in life. Thank you, Cameron, for all your expertise and knowledge; it's been a real pleasure working with you this week. I'm grateful SENNEBOGEN sent you out here for training purposes. Hope to see you again sometime!"
To schedule your operator familiarization training or to find out more about how a SENNEBOGEN Tree Care machine can add value and growth to your business, contact a SENNEBOGEN tree care specialist today.
2023 Tree Care Workers' Complete Guide to Machines & Equipment for Tree Removal, Urban Forestry, Storm Cleanup & More
Take an in-depth look at the SENNEBOGEN line of tree care handlers as we compare and contrast common equipment modifications to inform you on the best options for your tree service business.