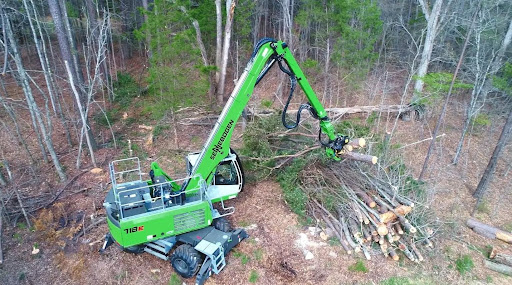 Ever wonder what it's like to operate a SENNEBOGEN Tree Care Handler?
Remember how you felt the first time you sat behind the wheel of a machine that was way t
oo big for you? You were probably way too young and way too eager. Maybe you snuck your dad's keys and fired up his rusty old pickup when he was at work. Or maybe you had a father-son bonding moment and pop told you to hop your scrawny butt in the driver's seat and give it a go.
You could feel that rush of adrenaline as you clumsily fumbled the keys into the ignition. Your heart raced and your breathing shallowed as you tried to stay focused and remember what you'd seen dad do a hundred times in your life.
Then, the moment of truth: your foot hit the accelerator.
A zoom and a jolt of power threw you off guard initially, but eventually you regrouped and found your cool. And then, that's when the fun began.
You felt the weight and power of that machine underneath you and within your control. You turned the steering wheel almost effortlessly. You leaned into turns right and left. And while you were about as awkward as a teen who just hit puberty, you knew this was something you couldn't get enough of, and you wanted to experience it again. You wanted to run the show. You wanted to bend it to your will.
Imagine that feeling, only 100x greater.
That's the power of a SENNEBOGEN 718.
We purpose build and fine tune every SENNEBOGEN tree care handler to meet your unique needs as a tree care industry worker. While there are some jobs that the bucket truck or boom truck is ideally suited for, there are many jobs that the SENNEBOGEN can tackle faster, safer and more efficiently.
Are you up for the Challenge?
"You have to be a 'tree guy'"
Not only do you get to experience what it's like to be a kid again every single day, you get to combine your operator and aerial skills and take it to the next level.
"You have to be a tree guy," cautions Jason R. Porter of Treeworks, Inc. "If you have these two skillsets [aerial and operator experience] in your holster, you can knock it out of the park with this machine".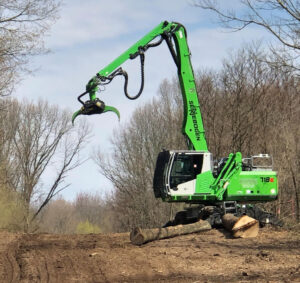 Cut Your Job Time in Half
Jobs that once seemed overly cumbersome, routine, and necessary for worksite safety and efficiency could be done from the comfort of your SENNEBOGEN cab in less than half the time.
"Now a single operator in the 718 can handle, or dismantle, trees safely, under control, in a climate-controlled cab," boasts Distinctive Tree Care arborist Jason Yerke, "and he's increasing production by – no joke – ten times!"
The SENNEBOGEN Operator Familiarization Training Course
We pride ourselves on amazing machines, but even more important to us is your experience and satisfaction. That's why we send a tree care specialist to your worksite to show you the ropes of operating your SENNEBOGEN tree care handler.
"Our focus is customer-centric." – Greg Roberts, SENNEBOGEN NA
Once you join the SENNEBOGEN family, we send our Operations Specialist to your site at no extra cost to you. Cameron Kuklick is a certified arborist and tree climber, and he'll arrive to show you all the bells and whistles of your new tree care handler. He'll teach you operations, safety, and maintenance. We make sure you're completely comfortable before you take your tree handler into the field.
Our Operator Familiarization Service Lasts for the Life of Your Machine
"When you hire new staff and switch operators, we'll send Cameron back out to make sure the new operator is comfortable on the machine, too."
– Greg Roberts, SENNEBOGEN NA
Read More About Our Operator Familiarization Course
A Safer Way for Your Tree and Ground Crew
How many times have you worried about the safety of your ground crew operations? Cutting down a tree safely - removing branches, felling, stacking, shearing, and mulching - is a dangerous operation.
If you could eliminate most of that risk for your employees, would you?
The need for less workers on the ground means the risk of injury goes down. Keep your operators safe in the cab, and still get the work done faster than you would otherwise.
More Efficient Than Your Bucket Truck and Boom
Tree removal efficiency is the name of the SENNEBOGEN game. Once you own one of our incredible tree care handlers, you'll quickly see how your production will double, then triple.
Jason Porter of Treeworks, Inc:
"This tree would typically be most of the day for 3 guys and a bucket truck. I had it safely and neatly staged on the ground in about 50 minutes," says Jason.
"And the thing is, it was fun."
Read more about how TreeWorks Inc. is Crushing the Workload in West Michigan.
Rich Kingsborough of Atlas Tree Surgery:
"The difference on the jobsite is remarkable… We had a row of about 100 eucalyptus trees--about 120 to 150 ft. high.
Branches were stretching over two lanes of a major roadway, so we couldn't just cut & drop.
Typically, we would have had two climbers up in the tree, and a 100-ton or larger crane to bring the tree down.
With the 738, we completed the job in less time, using fewer people, without a crane, and we didn't have to put one climber in the tree. Anytime you can take a climber out of the tree you have made the job safer.
Up to now, we would have planned for about ten crew on the jobsite. The most we ever had there was up to five.
We scheduled two months for the job, and we got it done in about 6 weeks."
Read more about Atlas Tree Care's growing fleet in action.
Don't Just Take our Word for It
Come Experience SENNEBOGEN
Our machines are powerful, efficient, safe, and purpose built for the unique work you do as a tree care industry professional.
We love to let our customers tell us about the amazing work they do with their SENNEBOGEN tree care handlers.
But we also know that seeing is believing.
That's why we invite you to come check us out for yourself!
Seeing is Believing: Watch our Online Demo!
2023 Tree Care Workers' Complete Guide to Machines & Equipment for Tree Removal, Urban Forestry, Storm Cleanup & More
Take an in-depth look at the SENNEBOGEN line of tree care handlers as we compare and contrast common equipment modifications to inform you on the best options for your tree service business.