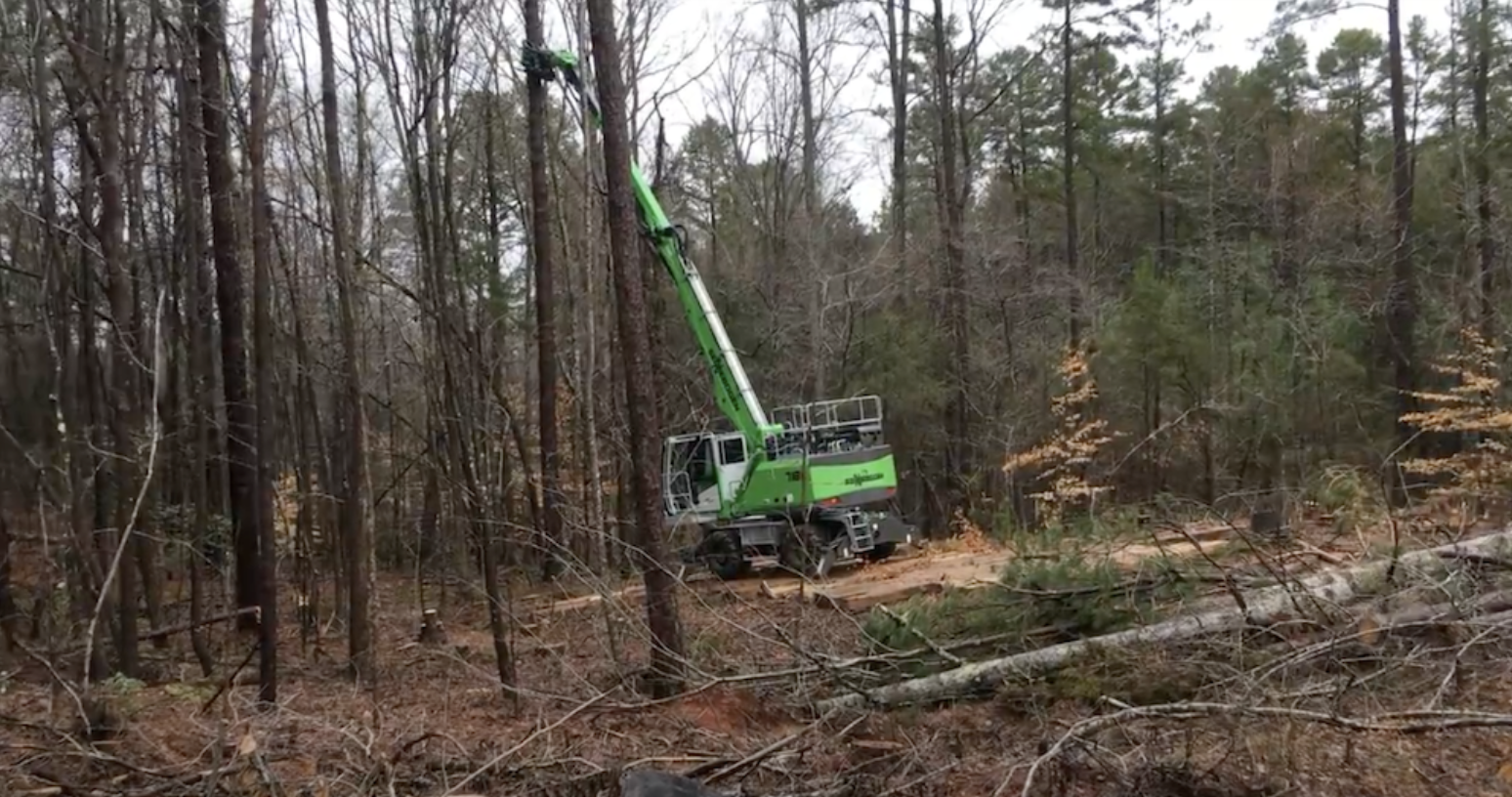 The tree care industry is competitive, dangerous, and demanding.
Innovations that improve productivity, safety, and efficiency are significant game-changers.
SENNEBOGEN's line of purpose-built tree machines is taking the tree care industry to new heights - not only increasing productivity tenfold and income threefold, but minimizing the need for reliable, skilled workers and eliminating boots on the ground.
Operating a SENNEBOGEN is quite unlike anything else you've experienced before, with its comfort tilt cab and smooth joystick control, stable outrigger-supported base, Cummins engine, and hydraulic boom - but we do our best to describe it and show you what it's like.
So, sit back and see for yourself what it's like to experience a SENNEBOGEN.
How Does a SENNEBOGEN Operator Start the Day?
Planning the Day
As a SENNEBOGEN operator, you come into the office in the morning eager to learn about the jobs you're scheduled to complete that day. You find out what types of trees you're taking down and get a sense of how you're going to approach them with your tree care handler and ground crew.
Typical jobs for SENNEBOGEN tree care handlers that may be on your list for the day include large-scale tree removal operations and projects in urban areas that require precision control and nimble maneuvering to overcome ground-level obstructions.
Drive to the Job Site
Once you have an idea of what your day looks like, you take the SENNEBOGEN to the first jobsite or just go straight to the location if the machine was transported there the night before. Once there, you present your game plan for tackling the trees to the ground.
Prep and Site Setup
Setting up the SENNEBOGEN for the project is a cinch. The process requires little time because the material handler is self-leveling and able to reach into tight areas or sloped terrains. When you have the machine in place, you do a final review of any barriers or safety issues that might get in the way of the work.
What Does a SENNEBOGEN Operator Do on the Jobsite?
After syncing up with the rest of your crew, it's now time to get in the cab and take down some trees. Organizing and pacing your cutting and take down will help you better manage the on-ground cutting, stacking and cleanup work.
Strategize Your Cutting and Takedown Procedures
Before every cut you make as a SENNEBOGEN operator, you imagine all kinds of situations that could occur and decide what you're going to do with the tree once you grab it.
"In this machine, you're thinking for two minutes and making a ten-second cut," said Greg Roberts, Tree Care Manager.
Here are some of the questions that are running through your head:
How am I going to make the cut?
What are my danger factors?
What are my angles like?
What's on the ground?
Where is my crew?
You don't just get in the cab and start cutting without careful contemplation. Your brain remains stimulated all day because you're constantly thinking about how you're going to make the next cut and the way it will affect the ground, the crew and the terrain.
RELATED: "You have to be a tree guy," says Jason Porter of Treeworks, Inc. "Aerial experience (bucket truck and climbing), combined with equipment operator experience are invaluable when you are working with a SENNEBOGEN 718.
If you have these two skillsets in your holster, you can knock it out of the park with this machine".
What Are the Conditions Like in the SENNEBOGEN Cab?
As a SENNEBOGEN operator, you sit in a comfortable, climate-controlled cab with full visibility and the ability to elevate and tilt the cab to taller heights as needed.
You take phone calls, play music, or listen to podcasts - all hands-free with Bluetooth capabilities. You have charging outlets and storage space to keep things out of the way, but within reach.
You're out of the traditional danger zone of tree cutting. You do several jobs in a day without the risk of hurting yourself, and you don't even break a sweat. You cut, transfer, and stack brush, branches, and tree sections using multiple attachments from a protected space.
You're not beat down with mental and physical fatigue at the end of the day.
Plus, you've done in 45 minutes what might have taken your crew 4-6 hours to do with alternative equipment and techniques.
Does a SENNEBOGEN Operator Need a Ground Crew?
If you have a ground crew on hand, it can be quite helpful. While you sit comfortably in the cab, your ground crew does the work of processing the trees once they're on the ground and cleaning up the jobsite.
If you're a one or two-man crew, no worries. You can cut, stack and load from your SENNEBOGEN.
The advantage of a ground crew processing trees allows you and your team to cleanup quickly and move to the next job site much faster - allowing you to get more work done in a day and make more money.
How Does a SENNEBOGEN Operator End the Day?
Early - or late - but NOT worn down and beat into the ground!
As a SENNEBOGEN operator, your day is much more productive than if you were holding a chainsaw and cutting trees from a bucket truck.
You get so much more work done - there's no rigging or climbing involved, so the job gets faster and safer.
You have extra time on your hands to squeeze in another project or just call it a day and go home.
RELATED: Beyond Bucket Trucks and Booms: Come Experience SENNEBOGEN Tree Care Handlers
Want to SEE it for Yourself?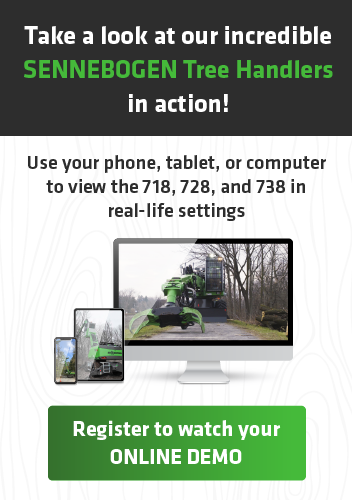 UP NEXT: The Camaraderie and Community of the Tree Care Industry
Take an in-depth look at the SENNEBOGEN line of tree care handlers as we compare and contrast common equipment modifications to inform you on the best options for your tree service business: