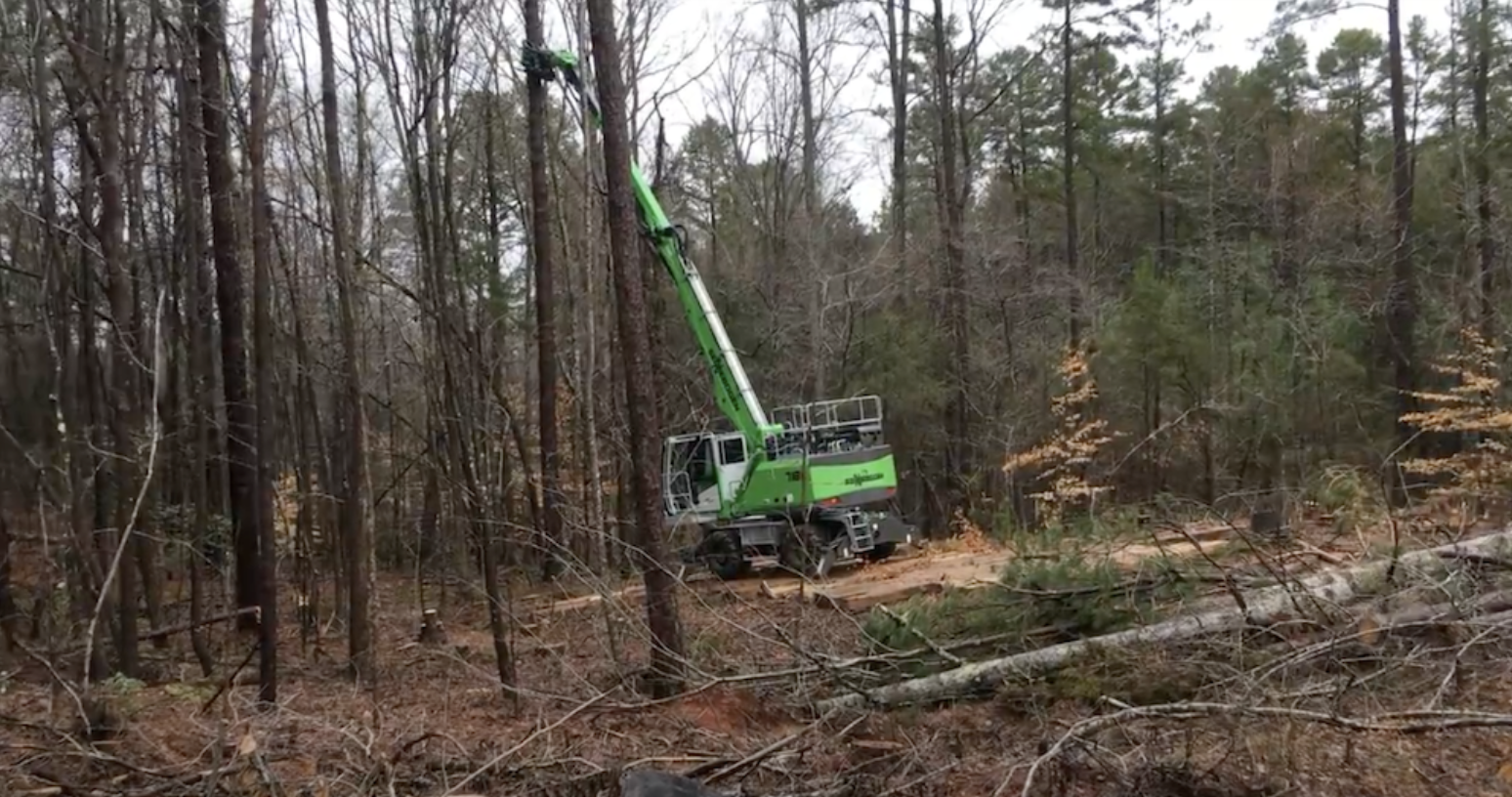 The tree care industry is competitive, dangerous, and demanding.
Keeping up with damage from wildfires, storms, and hurricanes is one issue. Finding skilled arborists to do ongoing tree maintenance is another.
Here's what it's like to be the operator of a SENNEBOGEN tree care handler and how this machine can make the experience easier, faster, and safer.
How Does a SENNEBOGEN Operator Start the Day?
As a SENNEBOGEN operator, you come into the office in the morning eager to learn about the jobs you're scheduled to complete that day. You find out what types of trees you're taking down, so you can start to get a sense of how you're going to approach them with your tree care handler and ground crew.
Typical jobs for SENNEBOGEN tree care handlers that may be on your list for the day include large-scale tree removal operations and projects in urban areas that require precision control and nimble maneuvering to overcome ground-level obstructions.
Once you have an idea of what your day looks like, you take the SENNEBOGEN to the first jobsite or just go straight to the location if the machine was transported there the night before. Once there, you present your game plan for tackling the trees to the ground crew.
Setting up the SENNEBOGEN for the project is a cinch. The process requires little time because the material handler is self-leveling and able to reach into tight areas or sloped terrains. When you have the machine in place, you do a final review of any barriers or safety issues that might get in the way of the work.
What Does a SENNEBOGEN Operator Do on the Jobsite?
Now it's time to get in the cab and take down some trees after synchronizing operations with your ground crew. This is an important step because you want to make sure you don't overload them with too much wood on the ground to process and clean up.
Before every cut you make as a SENNEBOGEN operator, you imagine all kinds of situations that could occur and decide what you're going to do with the tree once you grab it. Your ground crew waits for you to make a move.
"In this machine, you're thinking for two minutes and making a ten-second cut," said Greg Roberts, Tree Care Manager.
Here are some of the questions that are running through your head:
How am I going to make the cut?
What are my danger factors?
What are my angles like?
What's on the ground?
Where is my crew?
You don't just get in the cab and start cutting without careful contemplation. Your brain remains stimulated all day because you're constantly thinking about how you're going to make the next cut and the way it will affect your crew, as well as the terrain.
What Are the Conditions Like in the SENNEBOGEN Cab?
As a SENNEBOGEN operator, you sit in a comfortable, climate-controlled cab with full visibility and the ability to elevate and tilt the cab to taller heights as needed.
You take phone calls, play music, or listen to podcasts without ever taking your hands off the controls with Bluetooth capabilities. You have charging outlets and storage space to keep things out of the way, but within your reach should you need them.
You're out of the traditional danger zone of tree-cutting. You do several jobs in a day without the risk of hurting yourself, and you don't even break a sweat. You cut, transfer, and stack brush, branches, and tree sections using multiple attachments from a protected space.
Why Does a SENNEBOGEN Operator Need a Ground Crew?
While you sit comfortably in the cab, your ground crew does the dirty work. They process the trees once they're on the ground and then clean up the jobsite.
As a SENNEBOGEN operator, you take down the trees so the ground crew can put them in the chipper, bucket truck, or grapple truck. Your ground crew carries around 20-pound chainsaws that run all day long. And when they aren't processing, they wait for you to make your cuts and bring down more trees.
Your ground crew spends more time cleaning up than processing trees. The quicker they can clean up, the faster everyone can leave the site, go to the next job, and make more money.
A good cleanup process, or lack thereof, separates the decent tree care companies from the great ones. Your ground crew's simplest, yet most important tool is the rake.
How Does a SENNEBOGEN Operator End the Day?
Early!
As a SENNEBOGEN operator, you have a much shorter day than you typically would if you were holding a chainsaw and cutting trees from a bucket truck. And you get so much more work done.
There's no rigging or climbing involved like the traditional tree-cutting process, so the job gets done quickly. You have extra time on your hands to squeeze in an extra project or just call it a day and go home.
What It's Like to Operate a SENNEBOGEN Tree Care Handler
Now you know how operating a SENNEBOGEN tree care handler can help you get jobs done easier, faster, and safer.
Our mechanized way of cutting trees increases efficiency, reduces hazards, and limits the number of people needed to do the job.
See for yourself! Sign up for a virtual demo and learn more about the capabilities of our tree care handlers.