Most tree service workers are skilled at the traditional method of tree climbing to trim branches and dismantle trunks section-by-section. But, this occupation didn't become one of the most dangerous in the country due to lack of skilled tree cutters.
Climbing into dead leaners over wires or using a chainsaw to trim, fell, or buck large tree stands with obstacles in the perimeter or in its drop zone are some challenges that must be overcome. Even with advanced rigging techniques, manual tree cutting efforts are extremely time-consuming which can drain both worker energy and business profits.

Both the bucket truck and the 718 have their best-use applications. In high density tree stands or urban tree removal projects where obstacles and electrical hazards are certain, the Sennebogen 718 can de-limb, dismantle, and stack tree material at rates up to 10 times faster than bucket truck and hand saw operations.
But, not every tree removal project is at a scale that can offset the financial investment of the 718 - which makes a bucket truck and chain saw the best equipment for some jobs. Here we compare the pros and cons of bucket truck operations to that of the Sennebogen 718 tree handler.
Bucket Trucks in the Tree Removal Service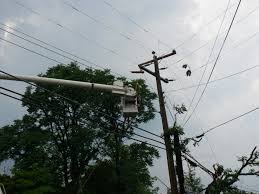 In the 1900s, cherry pickers (bucket trucks) ushered in a new era of mobility for the tree cutting industry by reducing the need to climb trees. Instead of risking worker safety by climbing dangerous heights or hazardous trees, tree sawing crews are lifted to the tops of trees to artfully reduce both crown and trunk.
Arborist that use a bucket truck to approach and cut trees must first consider the distribution of the tree's crown branches, inspect for any signs of decay or disease, judge the lean of the trunk, and take into account present soil conditions - before operations even begin!
However, when a site has sufficient equipment access and the bucket truck has sufficient reach, there are tree cutting projects where these mobile elevated platforms are best for service:
Ideal Applications for Bucket Trucks in Tree Care:
Residential/Commercial

Removing large branches that are dead or compromised due to storm damage

Municipality Pruning



Pruning overgrown crowns with detailed cuts to improve line-of-sight and power line safety





Right-of-Way Maintenance

Managing aerial paths for electrical and telecommunication lines



The aerial lift does have its drawbacks, even in ideal tree cutting situations. Falling from platforms and entanglement injuries due to fatigue or overconfidence are still a problem when working from a bucket truck.
The physical and mental work is quite challenging with lower back pain, pulled muscles, and shoulder injuries being the most common. Consider the handling of a heavy chain saw at awkward positions while also being vigilant enough to maneuver and lower heavy branches and tree sections that feature unpredictable motions.
Mechanized Automation with the SENNEBOGEN 718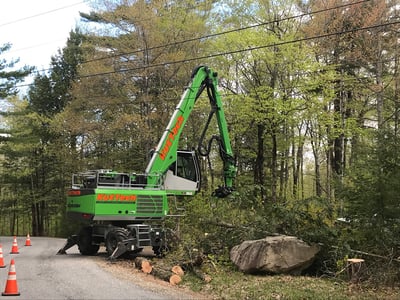 In the same way the original cherry pickers transformed the tree cutting operations during the early 1900s, the Sennebogen 718 tree handling machine is taking the arbor industry to another level with a mechanized way of cutting trees that is safer and more productive.
The 718 reduces your tree-cutting crew to one trained operator and one automated, tree handling machine that can cut, transfer, and stack brush, branches, and tree sections using multiple attachments.
There is virtually no set-up time required as the 718 is self-leveling, and able to reach into tight areas or sloped terrains. The Sennebogen is most beneficial for large scale tree removal operations or those projects that are located in urban areas which require precision control and nimble maneuvering to overcome ground-level obstructions:
Ideal Applications of the 718:
Storm Damage Clean-up


To get roads open faster and residential and commercial property cleared for recovery effort





Acreage clearing for commercial/industrial construction and government public works projects





Roadway and Embankment Projects

Fast-tracked projects and those that have access restrictions or rough terrain




Urban or Waterfront Beautification Projects

To reach up, over, and down in hard to reach areas to trim or dismantle trees
With the SENNEBOGEN 718, tree workers are removed from dangerous power lines, which is a major concern especially after hurricanes and tornadoes when live wires are not only dangling from above, but also may be present on wet ground.
Instead, all manual workers can be kept at a safe perimeter as the SENNEBOGEN 718 can drive directly up to a tree, reposition itself quickly, and grab branches at different heights and cut trunk sections at different angles to completely remove damaged and dangerous trees.
This tree handling technology eliminates the most challenging manual work tasks which in turn eliminates fall accidents, fatigue, and muscle or bone injuries.
The powerful grapple jaws takes away the danger of handling heavy material and lowers all tree sections safely to a landing site or wood chipper. This is the automation power of the SENNEBOGEN 718 - where a trained operator can sit in a comfortable, climate-controlled cab, with full visibility and the ability to elevate and tilt the cab to taller heights as needed.
The SENNEBOGEN 718 also has its drawbacks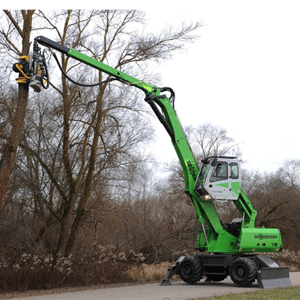 The price of this equipment is typically higher than a new bucket truck, but the speed, safety and efficiency gained with the 718 more than justifies the investment. If a company does a good deal of commercial, municipal, or utility work, this equipment serves as an extremely valuable tool in the toolbox.
Additionally, to become a proficient SENNEBOGEN 718 operator, it will typically require 200-400 hours of training, depending on the person's previous experience with heavy equipment operations and knowledge of trees.
The precision handling and automated processes of the SENNEBOGEN 718 will not remove the need for an operator to fully understand the potential weights of limbs and tree sections in relation to the operating capacity of the machine - so he doesn't cut off more than the equipment can handle at one time, which is about 3700 lbs. horizontal lift capacity and 12,000 lbs. vertical lifting capacity.
For larger scale projects or those tree-cutting operations that are hard to access or have obstructions, the SENNEBOGEN 718 is so productive that a tree cutting business can experience a large decrease in project time, increase in the crews capacity to take on more jobs, and thus promote the growth of the company itself.
However, for smaller projects that require pruning or removal of no more than several trees, a bucket truck would probably be the better choice.
In every situation, there is the ideal tool for the job.
To learn more about the SENNEBOGEN 718, visit our website or sign up to watch our virtual online demo of the 718 in action.
2023 Tree Care Workers' Complete Guide to Machines & Equipment for Tree Removal, Urban Forestry, Storm Cleanup & More
Take an in-depth look at the SENNEBOGEN line of tree care handlers as we compare and contrast common equipment modifications to inform you on the best options for your tree service business.