You invested in SENNEBOGEN because you wanted a machine that was safe, efficient, and simple. A little bit of support never hurt anyone, either.
We've got your back. In fact, our dependability goes way beyond your initial purchase.
We want you to learn everything there is to know about your SENNEBOGEN machine. That's why we made our Operator Familiarization Training available to all of our customers—for free.
Discover more about the SENNEBOGEN Training Center, who is eligible to enroll in these courses, and what you could learn.
If you're not local to our North Carolina facility, you can still get your crew trained on your new machine with our Operator Familiarization Training, conducted by SENNEBOGEN Tree Care Specialist Cameron Kuklick.
What Is the SENNEBOGEN Training Center?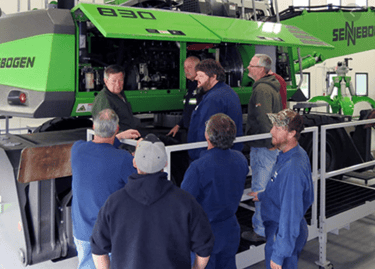 Let's face it. On-the-job training is great, but in a dealership, it can be quite distracting.
SENNEBOGEN has a dedicated training facility within driving distance of many dealers and customers. The space is fully equipped with instructors, classrooms, and demonstration areas in Stanley, N.C.
The main bay allows for hands-on access to full-size machines from three levels, including an elevated gallery. This means almost any SENNEBOGEN machine can be brought indoors, including an 870 M.
SENNEBOGEN instructors are highly qualified specialists in material-handling equipment and applications. They combine practical field experience with years of instructional expertise, as well as the most current technical information.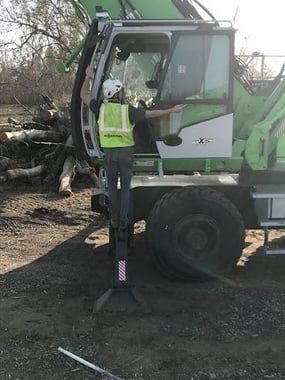 Cameron Kuklick conducts a walkaround during Operator Familiarization Training.
Our meeting rooms and classrooms all have computer networking and projection technology required for interactive instruction methods. Trainees can focus on fixing technical issues with SENNEBOGEN equipment and prepare themselves for real-life situations and mishaps.
By the end of their uninterrupted training, SENNEBOGEN students have been fully immersed in their selected topic, know how to find answers to technical problems, and can make the necessary repairs in the field.
Who Is Eligible for SENNEBOGEN Training?
SENNEBOGEN training was originally set up for dealers so they would have the knowledge and ability to repair equipment for customers. Since then, we've extended access to customers and Authorized Service Providers – for free.
We know the more information a trainee has, the better decision they can make it when it comes to working on SENNEBOGEN equipment.
It's a big decision to invest in a SENNEBOGEN, and we want to make sure you're fully equipped to get the most out of your tree care handler.
What Courses Are Offered Through SENNEBOGEN Training?
This course details proper maintenance procedures following the guidelines of the maintenance manual for all models of SENNEBOGEN material handlers. The operation and safety of the machines are also covered.
Factory instructors provide instruction on hydraulic and electrical schematic reading at a level appropriate for experienced technicians, with hands-on sessions including, but not limited to, setting and checking pressures. In the final day, technicians are required to locate faults that have been added to the machines.
Prerequisites: Basic knowledge of hydraulic and electric symbol reading

Certificate of Completion: Yes

Training Material: Manuals will be provided in paper and CD format

Class Size: 8
Service Level 2 E-Series
This course is designed to further qualify the technician who has previously completed the Level 1 E-Series training. Emphasis is placed on more hands-on training, including the main control valve, pumps, cooling system, magnet system, and much more. Faults will be added to the machines, too.
Prerequisites: Completion of Level 1 E-Series OR Level 2 D-Series
Certificate of Completion: Yes
Training Material: Manuals will be provided in paper and CD format
Class Size: 6
Course Length: 5 days


Parts Training
This course is designed to help parts personnel for SENNEBOGEN dealers to better understand the parts manuals and documentation for SENNEBOGEN material handlers. This includes the correct identification of parts as well as procedures and policies for ordering from the SENNEBOGEN warehouse.
In a classroom atmosphere, the parts manual will be discussed in detail. Participants are also provided with a tour of the SENNEBOGEN parts warehouse and a chance to meet with SENNEBOGEN parts personnel.
Prerequisites: None
Certificate of Completion: None
Training Material: Manual will be provided in paper and CD format
Class Size: 10
Course Length: 2 days


Operator Familiarization
This course is designed to familiarize SENNEBOGEN machine operators in the proper methods of working with a SENNEBOGEN tree care handler.
Participants receive a hands-on orientation to the layout and controls in the operator cab, best practices for safety and efficiency, lift charts, buttons and switches, indicating lights, warning lights and buzzers, safety cameras, and much more.
Daily maintenance practices are also covered. All participants will have the opportunity to operate an actual machine at the training facility.
Prerequisites: None
Certificate of Completion: None
Training Material: Manuals will be provided in paper and CD format
Class Size: 8
Course Length: 2 days
LEARN MORE about SENNEBOGEN Operator Familiarization
Why SENNEBOGEN Training Is Free for Dealers, ASPs & Customers
We want you to know that when you purchase one of our tree care handlers, you become a part of the SENNEBOGEN family. Your machine purchase is just the first step in an ongoing relationship where we help you grow and scale your business with all the support you need.
With free access to various courses, you will be able to utilize your SENNEBOGEN machine for optimal productivity and performance. Our factory training ensures your equipment gets efficient, qualified support for repair and maintenance.
Contact SENNEBOGEN today to reserve your place in our next sessions!
Take an in-depth look at the SENNEBOGEN line of tree care handlers as we compare and contrast common equipment modifications to inform you on the best options for your tree service business: