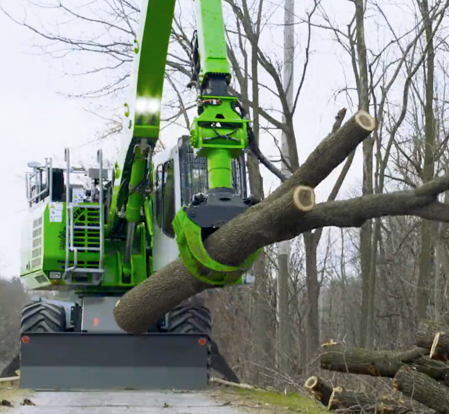 One of your tree care business goals may be to win more local and government contract work, especially in response to natural disasters and storm damage recovery and cleanup. You might even be challenged to figure out how to scale your operation while making sure you have enough resources and manpower to support the increase in work.
If you're at a point where you feel stuck and can't find skilled workers, or your current equipment fleet is barely able to handle the workload you have now, how will you manage a more demanding schedule? We'll discuss the process of registering with your local, domestic, and government organizations to be able to receive news when work is available, plus how to make sure your business can support the work when you do win the contract.
VIDEO: SENNEBOGEN 718 Land Clearing Operation
How to Bid on Government and Local Municipality Storm Cleanup Work
Prepare now to get the work later. The registration process is lengthy, and respondents must act quickly in the wake of a disaster to be selected as part of the cleanup response crew. It all starts with your state PTAC. From there, you can register locally, with other states, or with government organizations. Here's how to get the process going.
Prepare and Register Before the Start of the Season
Plan way ahead of the storm or natural disaster – agencies and offices get flooded right after a storm and often can't handle the overload of requests or simply overlook your request. The agencies will give a job to a company who's already registered in the system, so don't wait until a disaster strikes.
Contact your local state PTAC representatives
The Procurement Technical Assistance Program was established by the Department of Defense (DoD) and administered by the Defense Logistics Agency in an effort to increase government contract opportunities for small and large businesses. The DoD awards cooperative agreements to qualified organizations to establish and maintain Procurement Technical Assistance Centers (PTACs).
Source: ptacsc.org/about ​
Your PTAC rep is like a personal business advisor that can walk you through all the steps in registering for local, state, and federal work. Through PTAC, you can register within your state and any other states you may be looking to seek contract work.
What Can PTAC Help You With?



Services are free, including one-on-one counseling and consulting. Services include:
Helping to register with the proper government procurement systems
Assisting with federal government contract registration
Finding bidding opportunities and preparing proposals
Find bid leads in other states that may need additional support
Assistance with quoting a bid or writing a proposal
Receive relevant leads to your email inbox
Register for Federal Contract Work
The federal government System for Awards Management (SAM) registration is required for anybody who wants to work as a government contractor. That includes performing work for FEMA or the U.S. Army Corps of Engineers, which also handles debris clean-up after disasters.

Registering for SAM is often a difficult and tedious process, with minor errors in the application process causing prolonged or permanent delays. Some for-profit companies claim to help you through the SAM registration process, but your PTAC office rep will do it for free.
The steps include:
Getting a DUNS Number

Preparing your data

Getting a login.gov user account
After taking those three steps, you are ready to register on sam.gov.

During the registration process, indicate that you want to participate in the Disaster Response Registry. That way contracting officers can locate your information when performing a search of the registry.
You may be asked to procure a notarized letter of verification.

You must register for and be assigned a CAGE code by the DLA.

It takes about 10 days to become registered with SAM after submitting your information.




Register for Local Contract Work
Good to Know: FEMA is required to offer work to local contract businesses whenever feasible and available BEFORE going with an out-of-state contract. This doesn't make it impossible to get external work, but it does mean you have to come ready and prepared so when FEMA does need to find help, you are one of the low-hanging fruit.
You'll need to register within your state since every state has its own contracting and procurement system.
PTAC can assist with this registration process.
Seek Work from Insurance Companies
Most insurance companies maintain a list of approved private contractors that they share with their policyholders in a claim situation.
These approved contractor lists are not shared with the public.

Now is the time to get on these lists, assuming you meet each company's qualifications.


To get on a list, the institute suggests contractors call the insurance companies and ask to be directed to the "property repair program" in the claims department. Each company will have its own requirements for insurance, bonding, etc.
Get Started by Finding Your PTAC
Reference the complete article from EquipmentWorld.com
More Ways to Get Your Business Known and Get More Tree Work
List Your Business and Website in Local and Online Directories
You might be hesitant to put in a bid on a tree work contract if you fear you'll spread yourself too thin and not be able to deliver the quality service you want in a timely manner. A few obstacles you may be facing might be:
Finding, training, and retaining skilled, professional arborists and operators

Finishing jobs more quickly while maintaining safety and quality of work

Transporting equipment more efficiently between job sites

Minimizing downtime from equipment maintenance and minor repairs
The good news is there are ways you can bid on jobs and win more work without finding and training additional skilled workers or trying to figure out how to work faster or move more quickly between job sites.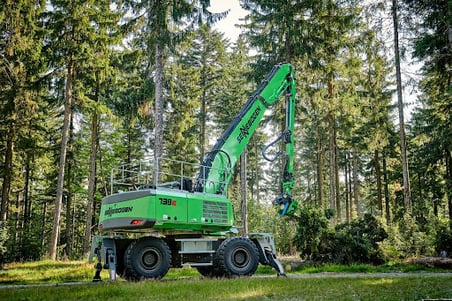 By investing in just one SENNEBOGEN 718 tree care machine, you can increase your work speed and productivity by anywhere from 10x – 15x faster. These numbers have been realized by real customers who've been able to easily scale their business while working fewer hours and a less physically demanding style of work.
Work Faster and Move More Quickly Between Job Sites
Richard Mowbray of Mowbray Tree Service tells of a recent job where his crew was able to topple the productivity of the competition with no special talent or effort – just a SENNEBOGEN.
"We had the first two trees down in 26 minutes!"
"Our crew recently worked on a project to take down 9 large trees around a SMUD substation, with obstacles to work around down below. The operator was able to go in there like a surgeon and piece out and dismantle the 9 trees safely in a day. A competitor was there last year, using the old ways, and it took him 4 days to bring down 2 trees."
Richard Mowbray, Mowbray Tree Service
Use the Same Crew and Still Produce More, Safely
So what about safety? Speed is one thing, but if it requires being an elite-level arborist, that may not be possible for some crews who can't rely on a large, professional crew.
Richard addresses that as well:
"The driving factor for us was reducing human exposure and providing a safer working environment. Other machines can do the work, but the SENNEBOGEN takes the employee out of the danger zone," says Richard.
For Mowbray Tree Service, one operator can often do the work of an entire crew.
"For us to go out and take down 40 trees… we might have had 10 or 15 employees out there before. Now we can do the exact same work with one person operating the SENNEBOGEN and a climber working around the power lines, so we are down to 2 employees doing that much work - or more," he adds.
You can read Richard's full story here.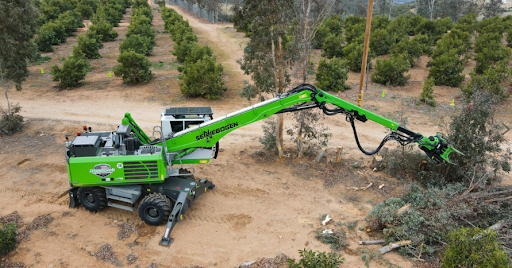 Want to see more of what Richard is talking about? Watch our online tree care machine demos to see the reach and versatility of the SENNEBOGEN 718, 728, and 738 rubber tire and crawler track versions.
Minimize Down Time from Minor Repairs with a SENNEBOGEN UPtime Kit
Keeping your machines running is essential, whether it's a SENNEBOGEN, bucket truck, mulcher, or crane. But if you're relying on a SENNEBOGEN for most of your productivity, you really can't afford for it to be a sitting duck for any length of time.
That's why we made our Uptime Kits.
An Uptime Kit is a small, portable toolkit that rides with your machine and carries specialty parts and tools required for on-site maintenance jobs and minor repairs. By keeping the kit stocked with your most-used essentials, your operator can quickly swap parts and get your machine up and running again with no major loss in time or productivity.
LEARN MORE ABOUT OUR UPTIME KITS
Can You Afford to Buy a SENNEBOGEN?
Investing in a SENNEBOGEN might seem like a big deal, and it is a pretty significant decision to consider. The SENNEBOGEN team is always available to answer any questions you might have, including how to make it work on your budget. There are ways to cover the costs quickly through financing and increased work productivity.
LEARN MORE ABOUT SENNEBOGEN CAPITAL FINANCING
SPEAK TO A SENNEBOGEN TEAM MEMBER TODAY
2023 Tree Care Workers' Complete Guide to Machines & Equipment for Tree Removal, Urban Forestry, Storm Cleanup & More
Take an in-depth look at the SENNEBOGEN line of tree care handlers as we compare and contrast common equipment modifications to inform you on the best options for your tree service business.