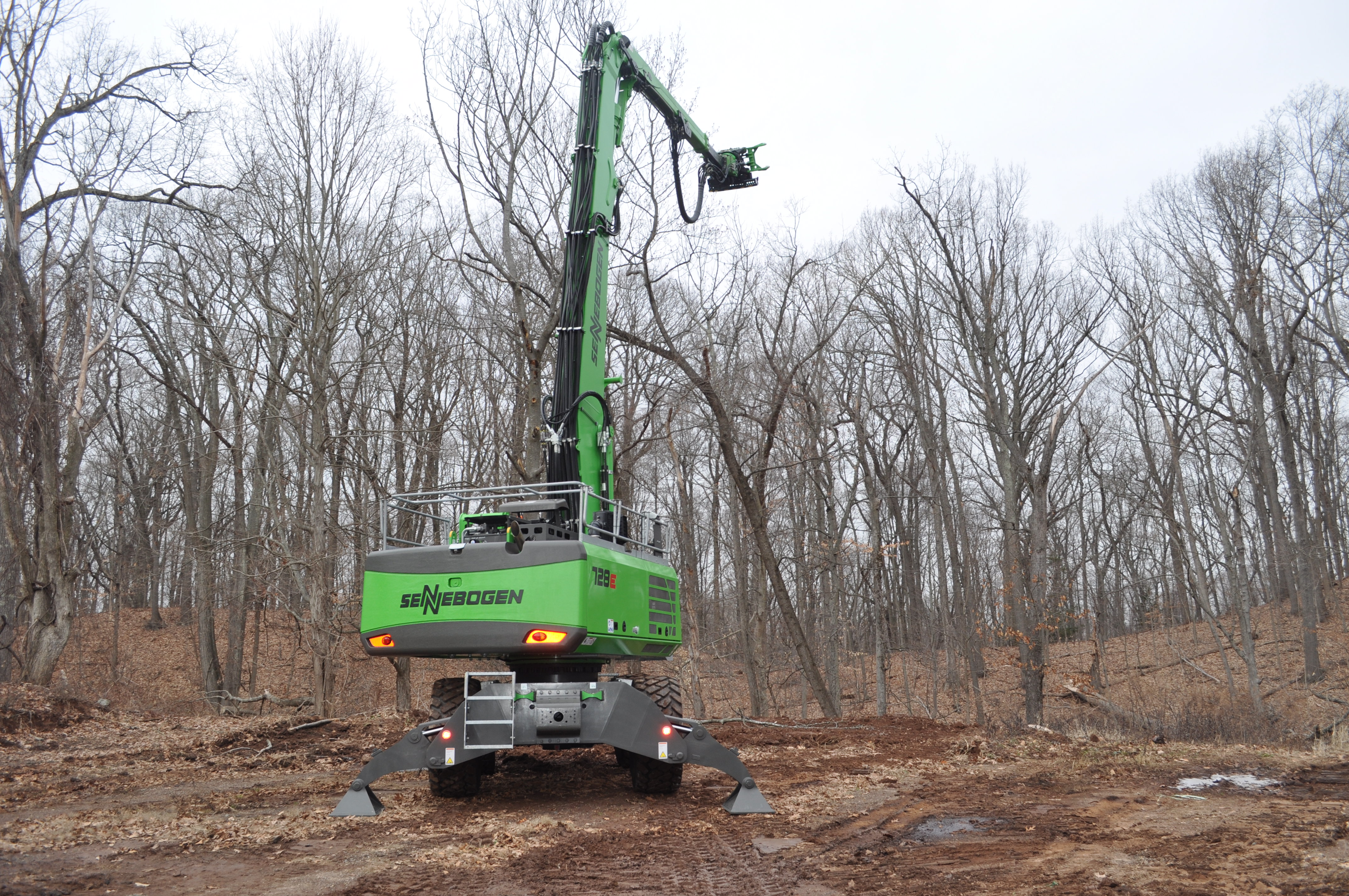 SENNEBOGEN's tree care handlers are setting the pace for productivity and jobsite safety in arboriculture, land management and urban forestry.
With the introduction of our newest machine, the 728, we're offering our customers the perfect mix of weight, size, and reach in tree removal equipment.
Created with the best features of the 718 and 738 in mind, there aren't many jobs you can't tackle with the 728.
Here are some ideas for the best applications of our latest tree care handler.
What Types of Jobs is the 728 Best for?
About 90% of tree work can be done with the 728. However, we're going to focus on three types of jobs that are ideal for our new tree care handler: large tree removal, emerald ash borer issues, and storm damage cleanup.
Large Tree Removal: The Need for Extra Reach
The 728 is perfect for areas where you're removing large trees from a site. Compared to the 718, this material handler gives you an extra 22 ft. of reach, which increases your cutting options as well as your safety.
"If I'm cutting a 120-ft. tree, and I cut it 45 ft. up, I got a lot of weight I'm holding above me. But if I get an extra 20 ft. of reach that I can basically cut the top out of it, then I'm going to be in a much safer environment," said Greg Roberts, Tree Care Manager.
Our mid-size tree care handler is also ideal for areas where you're working on uneven ground. Our machine will automatically level itself to provide stable footing within seconds.
With a 728, there are no traditional rigging operations and time-consuming safety procedures that must be followed with cranes. You can quickly deploy the outriggers for a stable platform, remove trees safely, and move to a new location in minutes.
RELATED: SENNEBOGEN 718 vs. a Crane for Tree Removal
EAB Infested Ash Trees: Brittle, Unpredictable & Dangerous
The emerald ash borer (EAB) was discovered in southeastern Michigan in the summer of 2002. It's destroyed 40 million ash trees in that state alone, as well as tens of millions across other states and Canada.
Trees infested with EAB will start dying from the top branches down as the internal vessels that carry water out to the branches are eaten away. Once an ash tree loses over 50% of its canopy, it is not treatable, according to scientific consensus.
EAB-infested trees must be cut down or they will eventually fall. This is of greatest concern when these trees are close to roads and could cause accidents.
The 728's telescoping boom has a lifting capacity of 12,000 lbs when fully extended vertically and 3,700 lbs when fully extended horizontally to effortlessly handle the largest and tallest ash trees.
With its ability to work from the road, extended reach, and lifting capacity, the 728 is an ideal tool for this type of tree removal.
RELATED: Safe Removal of Ash Borer (EAB) Infested Ash Trees
Storm Damage Cleanup: Uneven Terrain and Entangled Dangers
When storms hit a residential area and knock down trees, they don't always fall perfectly to the ground. They can end up tangled with other trees or on top of tall houses. That's why the 728 is a great tool to have in your arsenal for storm damage cleanup.
This compact and agile machine is fully equipped for efficient dismantling, removal, and stacking of structurally damaged or fallen trees after major storm events. With changeable head attachments, you only need one machine for multiple duties, including a grapple saw, mulcher, mower, stump grinder, and tree-cutting shear.
Traditional methods of cleaning up after a major weather event are time-consuming and allow many opportunities for mistakes that cause injury or death. The work is labor-intensive and exposes tree care workers to falling trees, electrical power lines, and dangerous heights.
The 728 can get storm-ravaged areas cleaned up safer and faster. It has a compact footprint for easy transport and roadside operation, as well as a tough undercarriage equipped with reinforced axles and off-road tires for stability on demanding terrain.
RELATED: Faster, Safer Storm Damage Tree Cleanup with SENNEBOGEN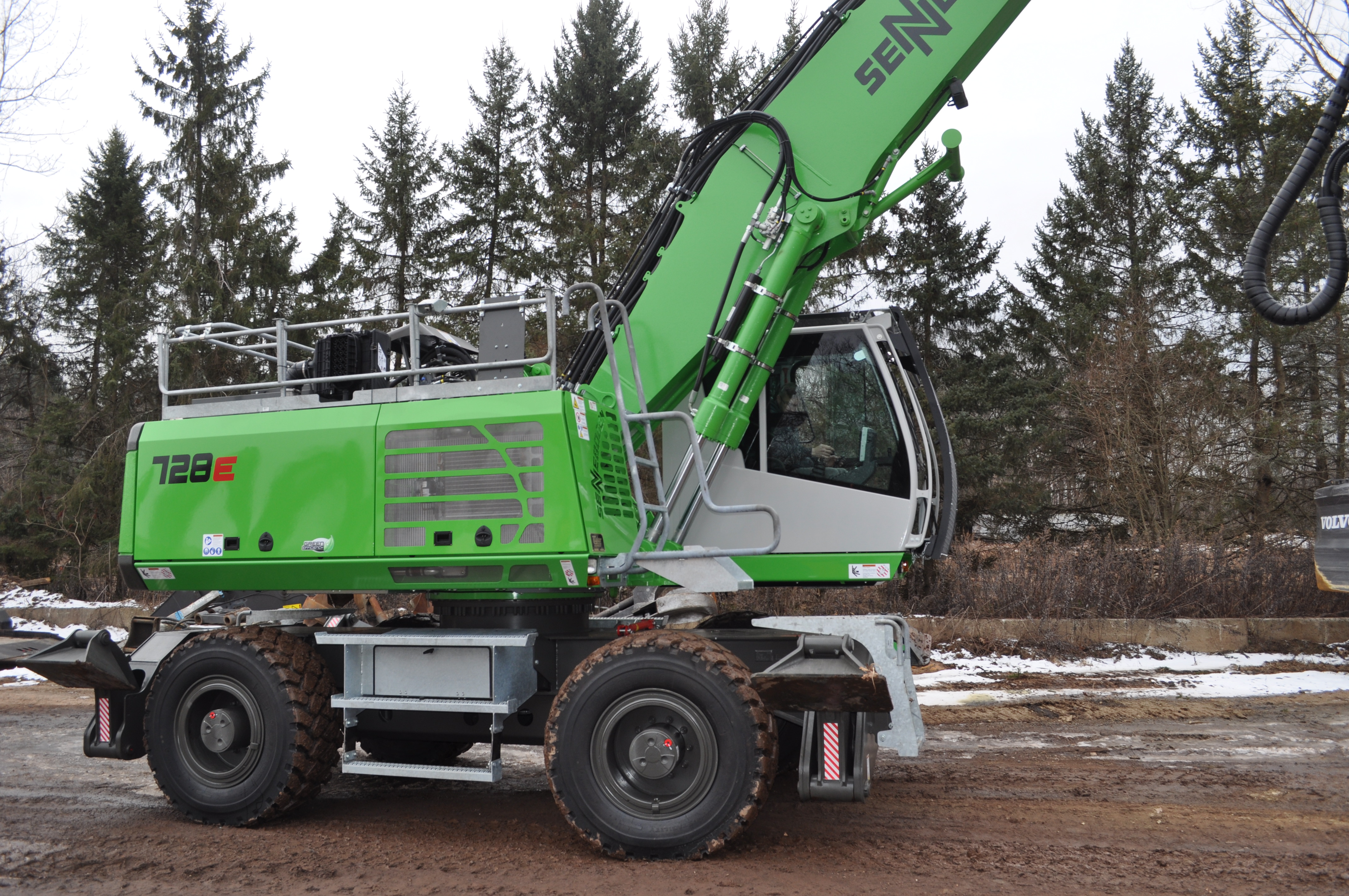 Grow Your Tree Service Business with the SENNEBOGEN 728
Our newest mid-size tree care handler can take care of the majority of your projects, but it's particularly useful for large tree removal, emerald ash borer issues, and storm damage cleanup.
Not only will the 728 do the job, but it will also do it up to 10x faster than conventional methods - and with enhanced safety. It all adds up to more production for less cost—the perfect combination for profitability.
With the 728, you'll have an extra tool in your arsenal - a competitive advantage - to answer the call for tough tree care jobs with speed, efficiency and ease.
RELATED: How to Bid on More Jobs and Get More Tree Care Work
Take an in-depth look at the SENNEBOGEN line of tree care handlers as we compare and contrast common equipment modifications to inform you on the best options for your tree service business.