Discover what the very first American operator of the SENNEBOGEN 718 has to say about the machine's impressive performance during storm cleanup operations.
"Because of the speed, because of the effortless work that it takes - It's a game changer!"
The SENNEBOGEN 718 is purpose-built to do one job - to safely cut and remove trees faster, more efficiently, and with one operator. The arbor industry employs workers to perform some of the most dangerous job duties in the country. Giant trees fall, heavy limbs cause major destruction, and injuries are common. Rob spoke about the increased safety the 718 brings to an industry that features long hours of physical work.
In the state of Massachusetts, flooding of coastal communities and inland storm damage will typically result in downed power lines, toppled trees, and heavy tree limbs that have crashed onto rooftops.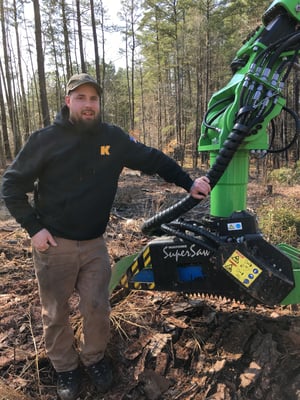 "It takes a lot of risk out of doing storm work. A lot of the long hours - the 718 keeps the guys out of the mix, out of dangerous areas, out of the wires and out of those dangerous situations."
As a longtime tree service expert, Rob Frost has spent many hours in storm cleanup and recovery efforts. He has used every manner of tree cutting resource and equipment available from traditional manual methods using bucket trucks and power saws to large scale tree removal operations by crane.
Rob's experience with the 718 tree handling machine has changed the way he views storm and wind damage restoration in urban landscapes.
"By the time you get a bucket truck on site with your chip truck or your crane set up, you already have the job done with the 718. Once it's to the trees, there's nothing that can outdo it."
The SENNEBOGEN 718 was designed with the operator in mind. A well-lit, climate-controlled cabinet with full visibility and camera assist means work can continue rain or shine, hot or cold, night or day.
"You're never in the danger zone or fatigued. We go to work 15 hours a day, sometimes 35 days straight with over 100 hours a week, non-stop...and the 718 just keeps going, going, going."
"You got good radio, good heat, windshield wipers at work, you can go non-stop and that is nice on the body. Mentally, you're thinking, but physically, you still feel good. You're in good condition. You're not tired and worn down."
The operators' cab can be lifted up to 18' eye level, while the telescoping boom and grapple saw attachments enable a long reach, precision maneuvering, and controlled handling. All these features combine to make cutting tall and heavy trees effortless according to Rob.
"A couple of features that were good would be the long boom and being able to sit far away when there's a lot of wires. You're able to reach underneath the wires and cut and pile all your material...versus if you had either a crane or a bucket truck, you'd have to go up and over the wires - and you usually don't have enough boom to do that."
"And the strength is just amazing, even being all the way out you still got plenty of lifting capacity to pull trees off houses and off telephone poles."
Tree removal in urban landscapes have the added risks associated with people and property, in addition to being a slow process that involves setting up traffic barricades and establishing a safety perimeter.
But the SENNEBOGEN 718 was engineered to mechanize the process of urban tree removal with its compact footprint and quiet operations that don't require the normal staging associated with crane operations.
Rob Frost was especially impressed with the ease of transporting the 718 and its movement and set-up through city streets.
"Being able to go in and go down roads at a fast pace, where if you had other pieces of equipment, you'd need to make a full lane closure, with 2 detail cops, cones, and signs. With the 718 you have one police detail...Sometimes we'll have a sign truck that rolls with us as we go. But, primarily you do a roll and set-up. By the time you get your bucket truck with your chip truck in, or your crane set up, we've probably already cut 3 or 4 trees and moved on."
It's with this type of productivity increase that the SENNEBOGEN 718 is transforming the way tree service businesses operate. Watch the entire testimonial from Robert Frost, the first operator in the US to experience this automated tree-cutting machine, the SENNEBOGEN 718.
Take an in-depth look at the SENNEBOGEN line of tree care handlers as we compare and contrast common equipment modifications to inform you on the best options for your tree service business.