The SENNEBOGEN 738 is our largest and most robust tree care machine. Perfectly suited for forest maintenance, heavy land clearing and large tree removal along thoroughfares, service roads and railway lines, the 738 offers maximum reach and the ability to use an array of attachments with no loss of power. Felling trees of the greatest heights, log handling, timber harvesting, and large-scale cleanup are a breeze for this beast of a tree care handler.
If you're familiar with the SENNEBOGEN 718 tree care machine with all of its production capacity and adaptability, the 738 is the same idea - but bigger.
How the SENNEBOGEN 738 is a Game-Changer for Large Tree Removal
Rich Kingsborough of Atlas Tree Surgery talks about what a difference it made when his team added a 738 to their growing SENNEBOGEN fleet. Atlas is currently operating five wheeled SENNEBOGEN 718 M machines, along with one of the larger 738 M models, and they recently received their first crawler-mounted 718 R-HD unit.
Twice the size of the 718, the 738 extends to a reach of 75 ft. (23 m) while, according to operators, handling with the same fluidity, the same precision, the same fast cycle times as its smaller version.
The difference on the jobsite is remarkable. Kingsborough relates his first project using the 738.
"We had a row of about 100 eucalyptus trees; about 120 to 150 ft. high. Branches were stretching over two lanes of a major roadway, so we couldn't just cut & drop. Typically, we would have had two climbers up in the tree, and a 100-ton or larger crane to bring the tree down.
With the 738, we completed the job in less time, using fewer people, without a crane, and we didn't have to put one climber in the tree.
Anytime you can take a climber out of the tree you have made the job safer. Up to now, we would have planned for about ten crew on the jobsite. The most we ever had there was up to five. We scheduled two months for the job, and we got it done in about 6 weeks."
Read the full story of Atlas Tree Surgery.
Why did SENNEBOGEN build the 738 tree care handler?
As always, our goal at SENNEBOGEN is continuous innovation. We purpose-build each machine specific to its industry, and we don't stop making improvements to our models.
The 738 was born out of the need for a timber harvest and large tree removal machine that handled just as easily as its smaller counterparts – the 718 and 728.


Benefits of the 738 Tree Care Handler
Got Reach?
The new SENNEBOGEN 738 E boasts a huge reach of nearly 75 feet, making it the perfect purpose-built machine for removing problematic trees and for fuel timber harvesting.
Being able to dismantle trees up to 125 ft. (38 m) make the 738 a true game changer.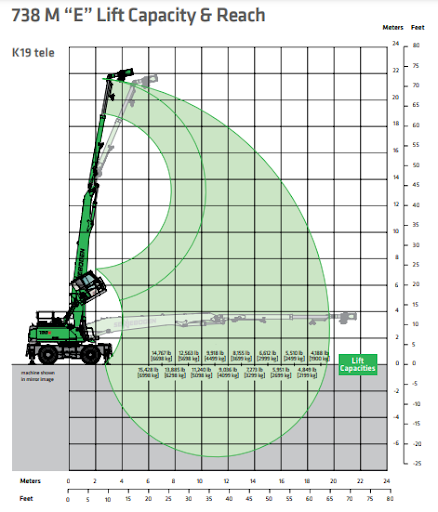 Maximum Visibility: Unparalleled Safety
The 738 was designed to optimize safety and productivity. For that to happen, we wanted to make sure our operators could see even more clearly than before. So, we optimized the view from the MaxCab by way of huge panoramic windows. We allowed the cab to tilt up to 30 degrees for the best viewing angle. Plus, the cab can be raised up to 6.5-meter eye level – just over 22 feet.
No Terrain is Too Difficult
Finally, to maximize the performance of this stellar machine, we had to make it capable of navigating even the most challenging terrain. All-wheel drive, forestry axles and a robust undercarriage make getting to the job site a breeze.
What kind of tree care jobs is the 738 best suited for?
No job is too big for the 738. The largest of our tree care handler line, the 738 is well suited for forest maintenance, timber harvest, large-scale tree removal and cleanup. Ideal for heavily wooded areas and mountainous regions, this beast can handle the biggest jobs with ease.
Forest maintenance

Timber harvest

Large tree removal

High growth height trees

Heavily wooded areas

Rough and mountainous terrain
Operator Rob Frost estimates the 738 could move at a pace of cutting 100-150 trees in a single day with no additional crew.
The SENNEBOGEN 738 at Work
Atlas Tree Surgery Inc. of Santa Rosa, CA is a perfect example of the 738 in action. Rich Kingsborough now houses a full SENNEBOGEN fleet that includes six 718 E machines in both mobile and crawler versions, plus one 738. For Kingsborough, this specialized fleet means more than added capacity and new projects for Atlas.
"The most important thing is that SENNEBOGEN has proven to perfectly align with our company mission: To elevate the standard of our industry through safety, training, and innovation."
Rich Kingsborough, Atlas Tree Surgery Inc.
Technical Specs of the SENNEBOGEN 738 M E Series
Cummins 225 horsepower (168 kW) diesel engine
23m (nearly 75 feet) vertical reach
Rubber tire undercarriage with all-wheel drive
Easily move on the job site at speeds of 13-15mph
Tracked version available


2023 Tree Care Workers' Complete Guide to Machines & Equipment for Tree Removal, Urban Forestry, Storm Cleanup & More
Take an in-depth look at the SENNEBOGEN line of tree care handlers as we compare and contrast common equipment modifications to inform you on the best options for your tree service business.