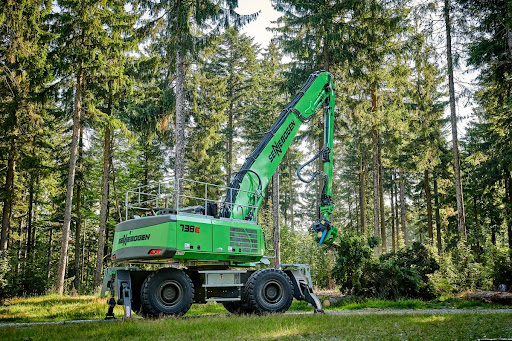 If you're hungry about scaling your tree service business – bidding on and winning more contracts, taking on more work, eliminating the challenge of finding skilled, competent workers, and feeling assured your team has the capabilities and resources to complete any job on time and efficiently – then you're in the right place.
LEARN MORE: Dan Mayer shares how the SENNEBOGEN 718 eliminated his challenge of finding more skilled workers.
We'll go over business and marketing tips to help increase your brand awareness, word of mouth and referrals, how to bid on (and win) contract work and requests for proposals, plus cover all of your legal issues appropriately.
On the operations side, find out how to organize your work capacity schedule and maximize your crew and equipment to take on more jobs and complete them faster and more efficiently.
Tip 1: Establish a Strong Business Presence
For people to find out you're the best at what you do, you first need them to know that you exist. This starts with building a strong business presence both online and locally.
Establish Your Brand Identity: Name, Logo and Style
You might have started out just doing some odds and end jobs for friends and family, and that quickly scaled into a full-blown business. But did you take the time to consider your business name, registration, alternate name, logo and brand style? If not, it's time to streamline those items. People recognize brands based on their consistency: once you see a red background with a white swirl, you automatically associate it with Coca-Cola, even if the name "Coke" isn't on the product. That's the brand identity you want to build for your tree service business.
Tip 1:

Your business name doesn't have to be clever or witty, but the name should tell potential customers what it is that you do.
For example. "Winston Brothers Services" could mean anything from HVAC to plumbing to tree care. A better choice would be "Winston Brothers Tree Services."
Tip 2: Your name should be able to grow with your business. If you limit yourself with your name, then you'll have to change it later if you include a wider range of services.
For example, if you start out doing tree removal and name your organization "Richmond Tree Removal Services," but later decide to add landscaping to your service offerings, your name will need to change to reflect that. A more general choice would be "Richmond Tree Service Company."
Once you've got your business name registered within your state, get a professional logo design and streamline it across all your business materials: website, letterheads and emails, equipment and apparel, etc.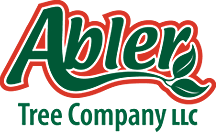 The Abler Brothers have a clean, professional logo and website design.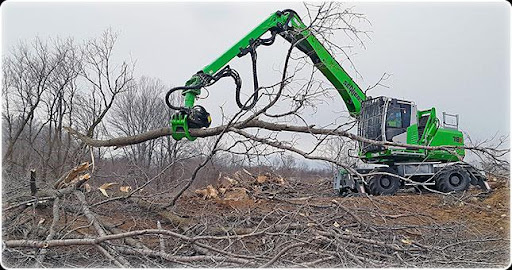 Source: MayerTree.com
Build a Professional Website
All of your advertising, marketing, directory listings and more need to point to your "home," which is your business website. It doesn't have to be complicated, but the design should be neat, clean and professional. Build your own for free on a site like Wix.com, or have a local web developer customize a template for you.
At the least, your page should include:
A brief overview on your Home page
An About Us page with some company history and a bit about the owners and staff
A Contact Us page with a contact form, phone number and email address, and a map of your physical location, if applicable
A Services page that outlines the details of the type of work you do and whether you service commercial, residential or government customers.
Tip 1: Include high-quality photos of your machines and crew in action.
Tip 2: Highlight video content from YouTube or Vimeo to show how your crew gets the job done neatly and professionally.
Tip 3: Include "before" and "after" photos for a big impact.
We like how Precise Tree Care included a detailed form so customers can quickly and easily fill out their job request for proposal. Check it out here.
List Your Business and Website in Local and Online Directories
Once your website is published, you can let the world know. List your site online through Google, Microsoft Bing, local directories and phonebooks, and have other businesses in your city promote your site in exchange for a mention of theirs.
LEARN MORE: Benefits to Local Business Listings
LEARN MORE: Stand out on Google with a free Business Profile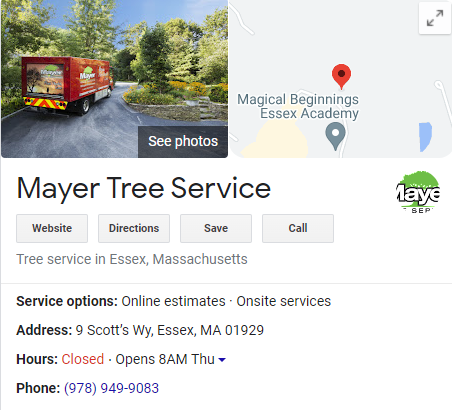 Tip 2: Build Community and Relationships
Leverage Social Media
Facebook is a great way to get started in the social media space. It's easy to create a Facebook page and invite friends and family to share and spread the word to build up your online community. Include photos and videos demonstrating your machines at work, interviews and behind the scenes with crew, and community events.
You don't have to post a lot, but post consistently. So if that's only once a week, make sure not to miss a week. Consistency in posting helps build your online exposure and brand awareness.
LEARN MORE: How to Create a Facebook Business Page That Followers Will Love

Use Word of Mouth: Customer Rewards and Referrals
One of the best ways to spread brand awareness that you are an excellent and trustworthy company is through your current and former customers. If they've had a good experience with you, they'll likely be more than happy to share a quick testimonial or refer a friend.
And don't be cheap – offer them a reward for a referral, such as 10% off their next landscaping project quote, or a $25 gift card to a home improvement store.
LEARN MORE: The 7 Best Referral Program Ideas (And One That Doesn't Work)
Host Community Events to Highlight Your Work
Community events are a great way to engage local patrons by providing food and fun for families and potential customers. Schedule community events that include machine demonstrations and tours, photo opportunities, barbecue and drinks.
These events can be a hit any time of year, but seasonal holidays are always a good reason to host an occasion, such as Halloween, Christmas or Arbor Day.
Also, consider workshops where your arborists and operators teach children and young adults beginner skills in tree care and tree climbing. These are fun events where you can give back and maybe even influence the next generation of arborists!
Highlights from the SENNEBOGEN Pittsburgh Demo Day Event
Tip 3: How to Bid on (and Win) Tree Service Jobs
In addition to establishing a strong business presence both online and locally, you can scale your tree care business by improving your process on bidding for contracts and answering requests for proposals.
Take some time to develop a few document templates that you can reuse by simply customizing for each new job or contract. You may want to include several templates depending on job type, such as one contract for residential landscaping work, another for storm cleanup, and yet another for right of way maintenance.
Work Contract
Make sure your contract includes your business name, professional logo, and contact information. It should outline the full scope of work in detail so there are no unforeseen expectations on either end.
Include what tasks will be done within the project and a timeline of work and expected date of completion.
Request for Proposals
Establish a template to use when responding to a request for proposals. You can include an introductory paragraph selling your business as the best choice for the job.
What problem do they have that you can solve, and why can you solve it best?
Think of what makes your business unique:
Excellent communications and flexibility
Maximum speed and efficiency
Clean work with no trace that your crew was ever there
Meeting government regulations for specifications of work
Remember, answer this from the perspective of the customer, not yourself. Why should they care what you are offering? Give them a fantastic solution to a big challenge they have or help them reach a major goal or important outcome.
These are just a few ideas to consider.
Tip 4: Cover Yourself Legally
Make sure you are covered from a legal standpoint. A big lawsuit can put a business out permanently if it's not protected properly.
Choose the Right Business Entity
When registering your business name with the state or county, choose an entity that will protect you from personal liability. The most affordable and obvious choice is a Limited Liability Company ("LLC"). This way, your personal assets are kept separate and protected from those pertaining to your business.
LEARN MORE: How to Choose the Best Legal Structure for Your Business
Liability Insurance and Certificate of Insurance
Many businesses require some form of liability insurance, but for a dangerous one like tree care, it's absolutely essential. Shop policies for tree care businesses to make sure you know what is covered by your policy and what might not be.
In addition to personal liability insurance, you'll want to look into equipment and vehicle insurance. At the very least, know what's covered and what isn't.
Some customers or agencies require you to procure a certificate of insurance in order to accept your work proposal. This is easy enough to provide and helps protect both parties.
RELATED: TCIA Magazine: Certificates of Insurance: Myth versus Reality
Tip 5: Match Your Capacity to Your Work Demand
So, you're ready to say 'yes' to new customers, win new government contracts, and double your revenue in 2022? Make sure you have the crew and equipment to support the new workload.
How many trees can your current crew bring down in a day?
How long does it take to transport from site to site?
How many reliable workers do you have showing up every day?
How much downtime would you suffer from a minor equipment service or repair need?
One way you can increase your productivity up to 10x without any additional crew and without adding any more demand or wear and tear to your current operators and arborists is by investing in a SENNEBOGEN tree care machine.
Our customers realize up to 3x the income and 10x the productivity as soon as they bring home a SENNEBOGEN.
To see more of what our amazing line of tree care handlers can do, register to watch this online demo to see the 718, 728, and 738 all in live action.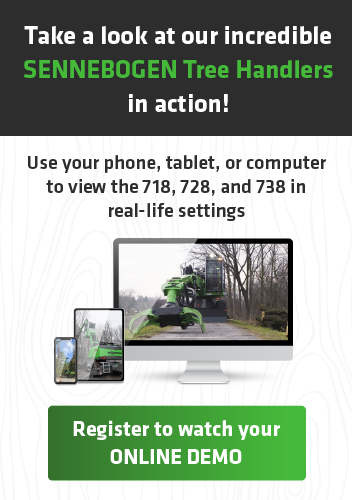 Take an in-depth look at the SENNEBOGEN line of tree care handlers as we compare and contrast common equipment modifications to inform you on the best options for your tree service business.
---