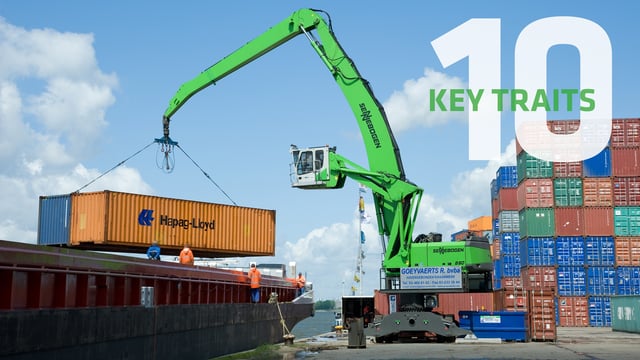 Ports use barge loading and unloading equipment on a daily basis. Transferring cargo from ship to shore and vice versa represents one of the fundamental purposes of inland ports and seaports. Unfortunately, some ports continue to use outdated and inefficient equipment that hinders productivity, increases operational costs, and eats into the bottom line.
In an increasingly competitive trading market, your port can stand out for its operational efficiencies – or its lack thereof. We've compiled a list of barge loading and barge unloading equipment features designed to boost productivity, improve safety, and enhance the user experience. Take barge materials handling to the next level at your port with these equipment components:
1. Modular designs. You can design your PC or vehicle from the comfort of your home or office, so why not your port equipment? Manufacturers who offer modular designs recognize the differences among industrial applications. Ports have different needs and modular barge equipment designs create versatility. Choose the cab, boom, grabs, undercarriage, and machinery options that meet your needs for maximum equipment value now and into the future.

At Sennebogen, for example, our modular designs give our customers usage flexibility without changing the underlying functionality. Those trained on our equipment can move from design to design with ease because of our modular approach to equipment.

2. Balancer equilibrium. Materials handling equipment without balancing technology will always work harder to complete the same set of tasks. Balancer equilibrium allows operators to perform heavy-duty tasks without using excessive amounts of energy. The technology requires a lower power input and puts less strain on the system.

Port managers who invest in balancer equilibrium-driven equipment will notice the difference in operational and maintenance costs and the increased lifetime of the machinery. Balancer equilibrium can lower associated costs by up to 70%. Equipment balancing technologies serve as great ways to streamline port operations and create efficiency.

3. Central measuring points. Equipment oversight promotes dependability over time. Look for equipment with centralized measuring points designed to streamline hydraulic system checks. The location of the measuring points encourages routine maintenance and prevents potentially risky system oversights.

4. Backup cameras. Give barge loading and unloading equipment operators a real 360-degree view with equipment featuring backup cameras. Useful for mobile equipment, backup cameras eliminate blind spots for better visibility, operator awareness, and reaction times. Ensure safety with value-added equipment features such as backup cameras that can take port operations to the next level.

5. Large, continuous safety glass windows. While backup cameras eliminate rear-facing blind spots, some equipment cabs also feature peripheral blind spots. Cabs built with panoramic, continuous safety glass windows give operators a bird's eye view of the task. Depending on the project, trust cab guards to provide an additional level of safety. Sennebogen cabs feature large safety glass windows on three sides as well as floor windows for projects that require operation from great heights.

6 .GreenHybrid technology. GreenHybrid technology is not only environmentally friendly, it can reduce lifting load costs by up to 30%. Barge loading and unloading equipment featuring GreenHybrid technology can cut barge material handling times in half and eliminate demurrage costs. Many people hold a common misconception that green technology is less powerful or efficient. Today, eco-friendly solutions provide power and savings for maximum benefits.

7. Circular galleries and railings. Operator safety comes first, which is why you want to look closely at machine access. Railings, circular galleries, nonslip stairs, and secure elevator enclosures can all streamline equipment operations while promoting safety, allowing operators to move around higher levels of the machine. Ask experienced barge unloading and loading equipment operators for feedback on machine accessibility. Use that feedback to choose equipment with optimized traveling pathways.

8. Comfort seats. Material handling equipment operators mway remain in a cab for long periods without taking a break. Equipment with the right seating experience can improve operator focus and reduce the likelihood of seating-related strains and injuries. Sennebogen cabs feature air-suspended comfort seating with climate control systems for an improved user experience during every shift.

9. Powerful lighting. Operators who work in low-light conditions need lighting solutions to maintain focus and avoid potential hazards in the surrounding environment. For nighttime operations and cloudy days, the right lighting system will keep productivity rolling without fail. Powerful lighting solutions may prevent operator eyestrain and enable others working in the area to continue in low-light conditions.

10. A trainer seat. Heavy-duty equipment operators rarely step into the driver's seat without some form of trainer-assisted practice. Trainer seats enable and encourage more thorough onsite training for safety and experience. Equipment operators who receive firsthand experience with a seasoned operator nearby may learn more quickly and retain more information. Trainers who take advantage of an additional seat may focus better during the session and provide more accurate and detailed feedback.
These must-have barge loading and unloading equipment features do not reflect industry standards. Instead, they reflect the cutting-edge efficiency-driven innovations that only a few manufacturers can provide. Our 10 must-have features improve safety, increase operational efficiencies, and can drive down costs. Consider these equipment components the next time you replace or add to your current port equipment fleet.
Ready to learn more about how equipment decisions can drive operational efficiencies? Download our free eBook to discover additional ways to realize operational goals through strategic and efficient equipment investments.
Take an in-depth look at the SENNEBOGEN line of tree care handlers as we compare and contrast common equipment modifications to inform you on the best options for your tree service business.
---