Register today for the next groundbreaking tree dismantling and removal equipment Demo Day and Open House.
The first American Demo Day (April 4th & 5th) for the SENNEBOGEN 718M Eseries was an opportunity for tree service professionals from all across the states to witness the revolutionary tree-handler that accomplished in 1 hour what would have taken a whole crew all day to finish. The industry interest that has been generated by the "live" equipment demo has lead SENNEBOGEN to follow with more demonstration dates. The next event is scheduled for June 28th and 29th at our Charlotte, NC American headquarters. Additional dates are to follow on September 12th and 13th and November 7th , 8th and 10th.
A Demo Day attendee, noted that on average, he is paid around $1500 to cut down a tree. Using traditional tree cutting methods, this is considered a good day's work. But, consider that the SENNEBOGEN 718E is able to cut and stack a tree in 20 minutes without compromising the safety of workers!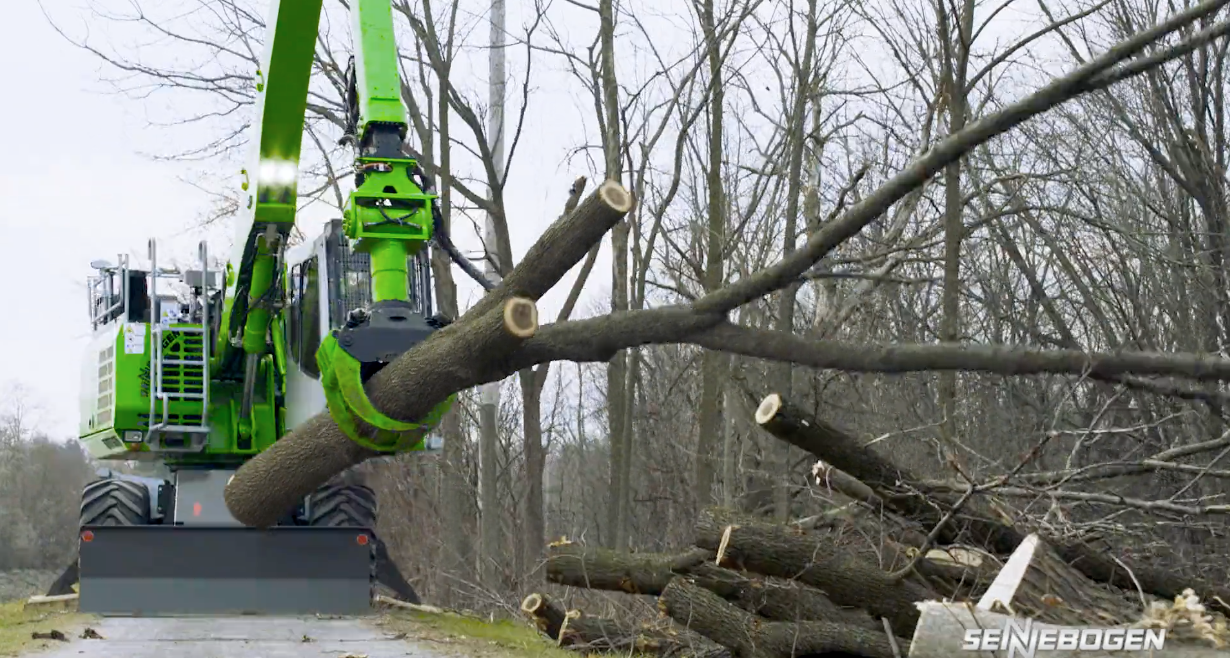 This is a must see opportunity to observe the first major breakthrough in tree cutting and removal equipment in the US. The SENNEBOGEN 718M E series is set to revolutionize the tree care industry, where safety concerns and current methods of tree cutting make it one of the most dangerous jobs in America.
It is not uncommon for tree service employees to handle industrial chainsaws while suspended over 30 feet above ground, maneuvering among massive tree branches with only a system of rope pulleys or an aerial crane for assistance. The SENNEBOGEN 718M E series is a game changer, reducing liability claims caused by injury, and drastically increasing production.
The agenda for the Demo Day event included detailed presentations describing:
the equipment's operation,
its mechanical components,
our North American network of service branches which provide field support, on-site training, troubleshooting assistance, and next day replacement of parts.
An informative discussion was also held to outline the operating cost of the 718M E series and financing options which allow businesses to preserve capital expenditures while taking advantage of next-generation technology. The day was capped with a tour of the 100,000 square foot SENNEBOGEN North American material handling equipment manufacturing facility.
Increased Safety and Productivity with Multiple Applications
The work of removing fallen trees and limbs following a major storm event has always been a dangerous job. After a storm, tree service workers are open to the hazards of live electrical wires, the risk of top-heavy trees suddenly falling, and large limbs that dangle with the risk of massive head injury. Additional burden has been reaped upon the arbor industry as tree removal services combat the mass removal of disease infected ash trees that dominate urban and natural landscapes throughout the US.
The SENNEBOGEN 718M E series tree handling machine is purpose-built for both urban and forested landscapes, tackling both tree cutting and removal in a single cycle. The 718M E series is highly flexible and is designed for multiple tasks with a variety of attachments to fit the type and size of tree clearing operation. The automated tree cutting and handling system is used for the following tree clean-up or clearing applications:
● Municipal area or road maintenance
● Residential new construction clearing
● Right-of way clearing
● Forestry operations
● Commercial landscape development
● Utility line clearance
● Storm damage clean-up
● Acreage land clearing
● Fuel wood harvesting
718M E series Key Features and Benefits Demo Day
The SENNEBOGEN 718M E series Demo Day was an opportunity to show first hand the custom engineered features of the 718M E series, and announce its availability for sale and distribution in the United States. Solving the challenges facing the tree cutting and removal industry requires the same forward-thinking, innovative approach that mechanized and transformed the agricultural industry.
Through the years, significant improvement in agricultural equipment and practices has moved the farming industry from steam powered reapers to mobile hydraulics to today's modern, electronic-controlled agricultural vehicles. The mechanization of land cultivation and crop harvesting has drastically increasing crop yield and profits for farmers. The SENNEBOGEN 718M E series is creating the same technological shift in the arbor industry - and tree service business owners can now reap the benefits of mechanized automation and engineered efficiency.
● Ten-fold increase in productivity
● Robust design for long life and low operating cost
● Fuel efficient, turbo-charged diesel engine
● Ergonomically-designed for operator comfort
● Right and rear view camera systems
● Simple troubleshooting procedures
Sign up for our next Demo Day and watch the SENNEBOGEN 718M E series in action. Enjoy a guided tour through our state-of-the-art facility and meet our President and dedicated team members. Then join in on the discussion concerning the challenges that face the tree service industry and discover the solution that will transform your way of doing business - keeping you ahead of the competition.